Scenic USA - Arizona
Scenic USA offers a collection of select photographs from a wide variety of attractions, points of interest, historic sites, state parks and
national parks found throughout the United States. Each photo feature is coupled with a brief explanation.
For further detailed information, links to other related sites are provided.
Marble Canyon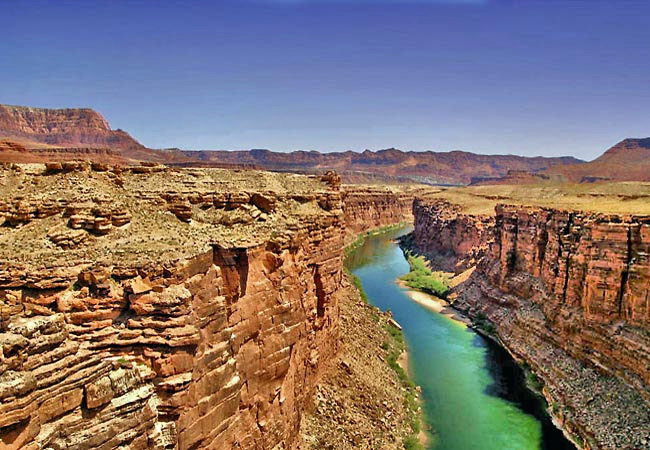 South of Page, Arizona, Route 89A leads westward alongside the Vermillion Cliffs and on to the North Rim of the Grand Canyon. For those yet to visit this side of the Grand Canyon, 89A crosses the Colorado River by way of the Navajo Bridge. Here, travelers catch a view of the beginning of Marble Canyon, a preview of grander things westward.
Once its own national monument, Marble Canyon was folded into the lands of Grand Canyon National Park. This area south of the town of Lee's Ferry and Horseshoe Bend marks the launching point for most Colorado River rafting adventures. Downstream of Lee's Ferry, the river begins its 270 mile journey through the canyonlands, dropping over 2000 feet in elevation. Marble Canyon's colorful, steep-sided walls define a rather narrow gorge that rise sharply from both sides of the river. Canyoneers and anglers hoping to reach river in Marble Canyon head downstream to easier access from a handful of side canyons, colorfully named Jackass Creek, Sevenmile Draw, Soap Creek Canyon and Badger Canyon. Here, there is no fishing pressure and the native trout are plentiful. Getting to the fishing hole is half the challenge.
Copyright ©2010 Benjamin Prepelka
All Rights Reserved