Scenic USA - Utah
Scenic USA offers a collection of select photographs from a wide variety of attractions, points of interest, historic sites, state and
national parks found throughout the United States. Each photo feature is coupled with a brief explanation.
For further detailed information, links to other related sites are provided.
Whitmore Arch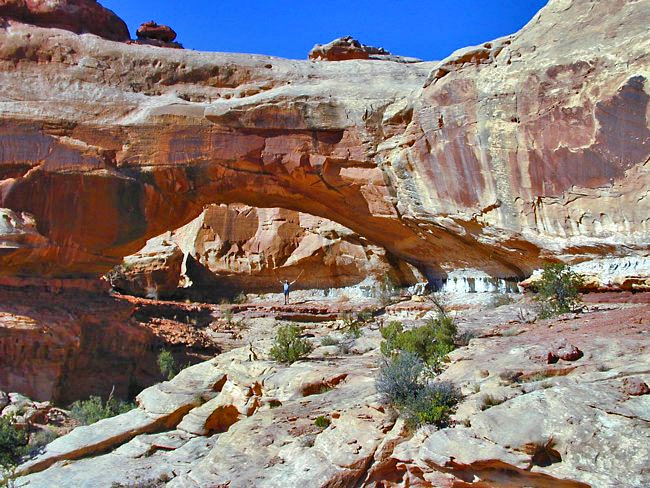 At night, they slept on bedrolls under the stars. During the day, they worked about 200 calves, branding, dehorning, castrating and vaccinating. Also joining in, Ben Johnson, the government inspector.
It was 1940, and George Whitmore, even though partially blind, join up with Ned Chaffin and few ranch hands on a round-up. One of Canyonlands' first sightseers, George Whitmore rode along on a cattle drive to what was known as Under the Ledge country. The Chaffin family ranch was located along the San Rafael River during the 1930s and 40s. Today, this area lies in a section of the Glen Canyon Recreation Area and the Canyonlands National Park.
During his adventure, George soaked up the Canyonlands' magnificent scenery. Through his monocular the sandstone canyon walls, colored in reds, oranges, yellows and purples, captured his gazes. He was especially enthralled with a large natural arch. An everyday sight to the ranch hands, George's enthusiasm drew a christening of the arch; from then on it was known as Whitmore Arch. Stories of George's trip and the Canyonlands' natural landmark repay the family with special memories.
George Tremaine Whitmore ~ 1898-1968
Copyright ©2008 Benjamin Prepelka
All Rights Reserved