Scenic USA - Wisconsin
Scenic USA offers a collection of select photographs from a wide variety of historic sites, points of interest, and a large
sampling of America's parklands. Each photo feature is coupled with a brief explanation.
For further detailed information, links to other related sites are provided, but in no means should they be considered an endorsement.
Ice Age Trail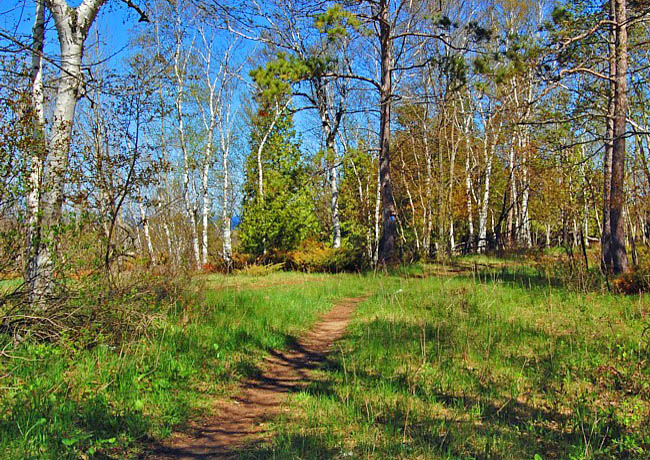 A mere 15,000 years back in geological time, Canada and northern United States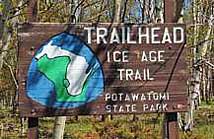 lay under an enormous ice sheet. Glacial effects are seen across New England, New York's Finger Lakes, and the Great Lakes region, but nowhere are they more impressive than in Wisconsin. Here, the most recent glacial activities ceased just 10,000 years ago.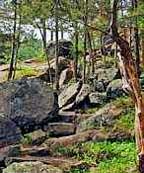 Covering nearly two-thirds of Wisconsin, the late Ray Zillmer proposed an Ice Age Glacier National Forest Park in 1950. An avid hiker, Zillmer visualized a trail, such as the Appalachian Trail, so visitors could explore Wisconsin's glacial landscape. Although the Ice Age Park and Trail Foundation was set up in 1958, only short sections of the trail were in place by the mid 1970s. Designated as a National Scenic Trail in 1980, the National Parks Service began working in conjunction with the Wisconsin Department of Natural Resources to develop and maintain segments of the trail.
Just north of Green Bay in Door County, the eastern end of the Ice Age Trail
is located in Potawatomi State Park. Here the trail follows former shorelines of Lake Michigan and the crest of eskers. After passing the bog country of Manitowoc County, the trail continues over the rolling hills of the Kettle Moraine for more than 100 miles. Although far from complete, segments of the proposed 1200 mile trail meander throughout the state and end at the Minnesota border. Here, the trail winds through Wisconsin's Dairy Country, terminating at the Interstate State Park Ice Age Reserve Unit at the Dallas of the St Croix River.
Copyright ©2011 Benjamin Prepelka
All Rights Reserved