Scenic USA - Utah
Scenic USA offers a collection of select photographs from a wide variety of historic sites, points of interest, and a large
sampling of America's parklands. Each photo feature is coupled with a brief explanation.
For further detailed information, links to other related sites are provided, but in no means should they be considered an endorsement.
Spring on Boulder Mountain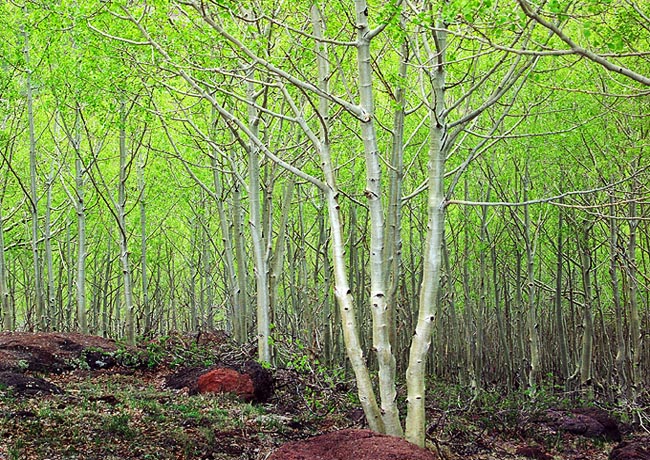 Managed by the Dixie National Forest, Boulder Mountain is tucked in among some of Utah's grandest scenery. Actually a high plateau, Boulder Mountain's east slope overlooks Capitol Reef National Park. Off to the south are the canyonlands of Escalante, Box-Death Hollow Wilderness Area and Hell's Backbone Road.
Boulder Mountain is best known for its camping, hiking trails, and fishing. The Box #34009, the Roundy Trail #34012, and the Coleman Trail #34011 are the only maintained trails within the wilderness area. Sprinkled with nearly 80 lakes and several streams, anglers find excellent fishing among this spectacular scenery. Most areas are open for fishing from early May through late October.
Spread over four geographical areas of Utah, the Dixie National Forest takes in almost two million acres. Here in the high altitude extremes of the Aquarius Plateau and Boulder Mountain, the terrain is dominated by aspen and conifers. Pictured here are the delicate new leaves of spring, giving off a light green glow among the myriad of silvery tree trunks. The prevailing trees in this conifer forest include Douglas, white and subalpine firs, inter-mixed with several varieties of pine and spruce. As visitors descend from plateau, the Dixie National Forest shifts to low growing pinyon pine and juniper. In just a short distance, the lower elevations change dramatically to desert type plants.
The forest service is charged by Congress to maintain this immense area for public benefit. Along with livestock grazing, timber, and mining activities, the forestland is open for a broad variety of recreation. Winter sports, sightseeing, camping, fishing and big game hunting top the list.
Copyright ©2011 Benjamin Prepelka
All Rights Reserved