Scenic USA - Arizona
Scenic USA offers a collection of select photographs from a wide variety of historic sites, points of interest, and a large
sampling of America's parklands. Each photo feature is coupled with a brief explanation.
For further detailed information, links to other related sites are provided, but in no means should they be considered an endorsement.
Grand Canyon Run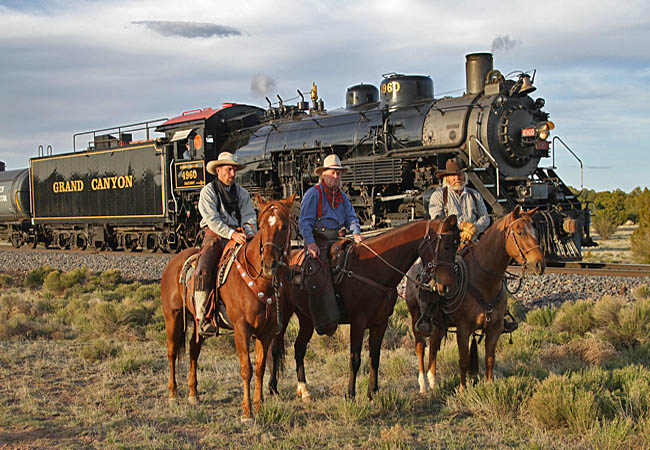 Whether our entertainment was found on the pages of a paperback, at the movie theater, or at home on a television set, westerns have thrilled both young and old for the last seventy years. And it seems that there was nothing better when the action was centered on an old steam train.
Looking like a scene from a 1950's Louis L'Amour novel, this modern day setting was found along the Grand Canyon Railway that runs from Williams, Arizona, to the South Rim. It appears that this modern day excursion train could have easily been one of the first trips to the Grand Canyon at the start of the 20th century. In September 1901, the Topeka and Santé Fe completed a railroad line extension to the South Rim. By 1905, the El Tovar Hotel was opened and affluent guests flocked to one of the greatest natural wonders of the world. Working in conjunction with the Atchison, Topeka and Santé Fe Railway, the El Tovar Hotel was operated by the Fred Harvey Company. Here, the Harvey Girls, dressed in their starched white and black uniforms, offered Grand Canyon Railway guests impeccable service.
Today, the Grand Canyon Railway continues to feature two operable steam locomotives. On selected dates, guests may enjoy a special treat when No. 4960, a 1923 Baldwin, leads the train out of Williams. These steam locomotives also make a special eight-mile trip, an excellent chance to experience an authentic train ride. The Cataract Creek Ramble, requires no advanced reservations and is very affordable. With the #4960 facing a mandatory inspection in the fall, this year may be the best time to enjoy the Grand Canyon Run.
Copyright ©2011 Benjamin Prepelka
All Rights Reserved