Scenic USA - Illinois
Scenic USA offers a collection of select photographs from a wide variety of historic sites, points of interest, and a large
sampling of America's parklands. Each photo feature is coupled with a brief explanation.
For further detailed information, links to other related sites are provided, but in no means should they be considered an endorsement.
Cascade Falls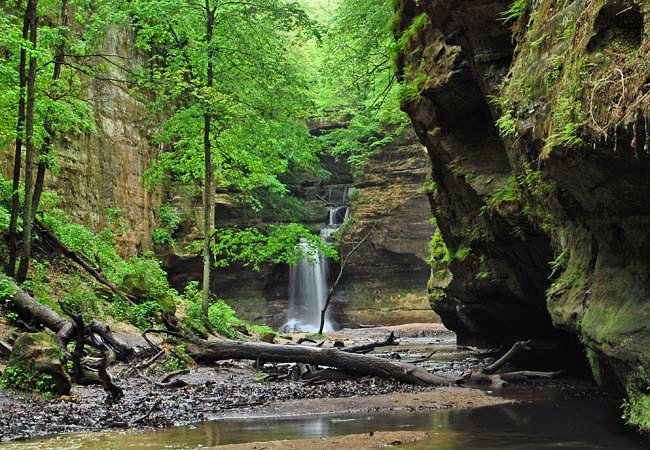 Matthiessen State Park, named for philanthropist Frederick William Matthiessen, has grown from the original 176 acre private park to today's much larger footprint around the Vermillion River. Over time, a steady stream carved its way through layers of sandstone, creating a long narrow gorge called a dell. The main canyon consists of the Upper Dell, beginning at Matthiessen Lake and continuing over Cascade Falls, dropping 45 feet into the Lower Dell.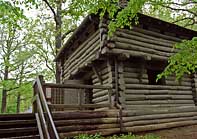 The main canyon, weaving through the majority of the park, can be seen from both the Bluff Trail and River Trail. This splendid view is looking upstream toward Cascade Falls, one of the park's main features. Along with Matthiessen Lake, other natural features include the Giant's Bath Tub, Wishing Well, Devil's Paint Box, and Strawberry Rock. Aside from all the natural wonders, other park activities include archery, golf, a radio-control model airplane field, and equestrian trails. A French fort replication, a special attraction, mirrors mid-West fortifications built in the 1600s. The main trail to Cascade Falls begins beside the fort and heads down into the canyon. Heading downstream, this walking path is well worn and provides a long series of stair steps that leads into the lower gorge. Hikers and parents are reminded of the dangers associated with the steep cliffs and deep canyons, which can be particularly breathtaking in places.
Copyright ©2011 Benjamin Prepelka
All Rights Reserved