Scenic USA - Tennessee
Scenic USA offers a collection of select photographs from a wide variety of historic sites, points of interest, and a large
sampling of America's parklands. Each photo feature is coupled with a brief explanation.
For further detailed information, links to other related sites are provided, but in no means should they be considered an endorsement.
Big Falls - Duck River
The Old Stone Fort, a name given to a first century ceremonial mound enclosure by early Tennessee settlers,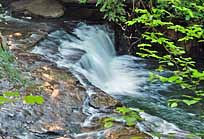 is found on a narrow promontory between the Duck and Little Duck rivers. This sacred site is one of the largest and most complex hilltop enclosures in the South. Thought to be used well into the 5th century, the fort is surrounded by a low stone wall, occupying 50 acres, and measuring a mile and a quarter in circumference.
Here at the Old Stone Fort State Archaeological Park, the branches of the Duck River reach the edge of the Highland Rim Plateau, dropping in a series of cascades into the Central Basin. Located just northwest of the town of Manchester, state park trails follow both river banks and the ancient Indian enclosure.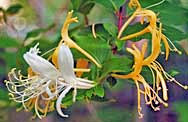 The park also features a museum, campgrounds and picnic area.
A handful of dramatic waterfalls and cascades are found along both tributaries of the Duck River. The park trails, sweetened with the scent of honeysuckle, provide plenty of river and waterfall viewpoints. Steep cliffs, rock ledges and fast flowing currents warrant a cautionary note. Although providing dramatic scenery, vigilance and common sense will still provide a memorable visit.
Copyright ©2011 Benjamin Prepelka
All Rights Reserved