Scenic USA - Wisconsin
Scenic USA offers a collection of select photographs from a wide variety of historic sites, points of interest, and a large
sampling of America's parklands. Each photo feature is coupled with a brief explanation.
For further detailed information, links to other related sites are provided, but in no means should they be considered an endorsement.
Rustic Road R 32 - Thunder River Falls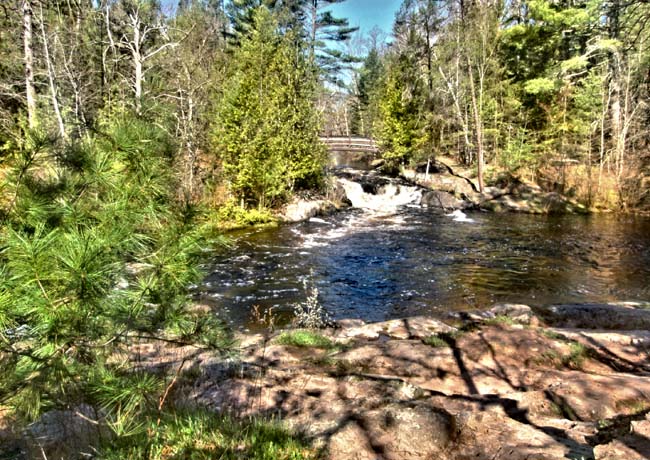 Created in 1973, Wisconsin's Rustic Roads program was designed to preserve the state's scenic backcountry roads for bikers, hikers and motorists. These lightly traveled highways vary from paved asphalt to dirt and gravel, and possess outstanding natural features. Designated with brown road signs and bright lettering, the state just recently achieved a remarkable milestone, adding its 100th Rustic Road.
Byway visitors in the extreme northeast section of the state will find R 32, Wisconsin's longest Rustic Road.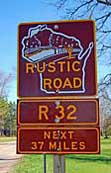 Taking this 37 mile road trip, sightseers pass several county parks, wander through county and state forests, and overlook the Thunder and Peshtigo rivers. Each side of the highway is covered in a dense stand of conifers and hardwood trees, broken up now and then with large boulders and prominent granite outcroppings.
Here at Veteranís Memorial Park, about 15 miles west of U.S. Route 141 and the town of Crivitz, the Thunder River lives up to its name. Part of the Crivitz Waterfall Tour, the Thunder River drops down several cascades. Hiking paths on each side of the river and a footbridge allow close-up views. The 320 acre Marinette County Park offers 15 campsites, a day use area and excellent trout fishing. For those not prepared for fishing, the nearby Thunder River Rearing Station (fish hatchery) is open for offishy business and self guided tours.
Copyright ©2011 Benjamin Prepelka
All Rights Reserved