Scenic USA - Oklahoma
Scenic USA offers a collection of select photographs from a wide variety of historic sites, points of interest, and a large
sampling of America's parklands. Each photo feature is coupled with a brief explanation.
For further detailed information, links to other related sites are provided, but in no means should they be considered an endorsement.
Oklahoma's Route 66 - Round Barn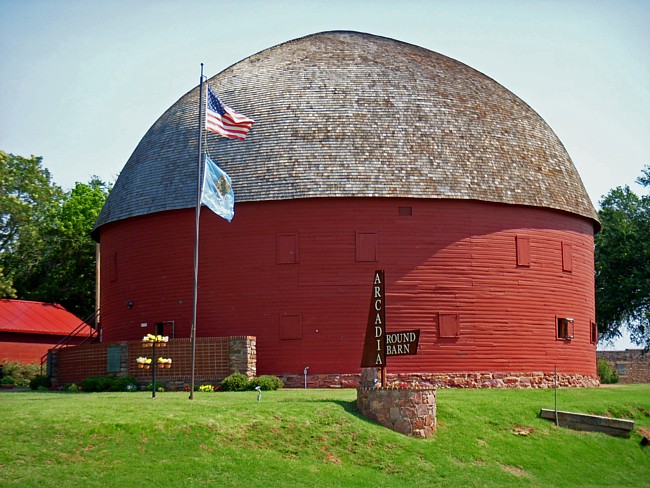 With a three day weekend coming up, dream up a little roadtrip like countless others with no particular place to go. Here in Oklahoma. sightseers will find nearly 400 miles of marked Route 66, stretching all the way across the state from Miami to Texola. Although Depression Era families looked to Route 66 as an avenue to the West and a new beginning, post World War II families began to enjoy a new age of prosperity and the good life. Eager to shake off the blues of the Great Depression, the 50s brought in a flurry of activity when businessmen and shop owners looked forward to the increased traffic on America's Main Street.
For younger generations, not familiar with the significance of Route 66,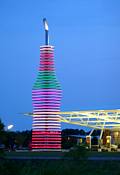 Clinton's official showcase, the Oklahoma Route 66 Museum, was opened in 1995. Operated by the Oklahoma Historical Society, museum exhibits chronicle the deep social and cultural change of America. One of the most distinctive landmarks found in Arcadia, is this view of the 100 year old Round Barn. A sixty-six foot tall soda pop marquee, replicating the distinctive neon glow of the 50s,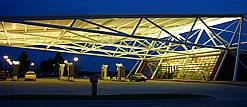 announces Pops Restaurant. The diner features some of the best chicken fried steak, burgers and fries in Acadia as well as hundreds of soda pop flavors. More museums, vintage gas stations, parks, cafes and landmarks dot the entire length of Oklahoma's National Road. Sections of the original highway are still intact, including two rare stretches of nine-foot wide curbed and paved highway between Miami and Afton.
Copyright ©2011 Benjamin Prepelka
All Rights Reserved