Scenic USA - Montana
Scenic USA offers a collection of select photographs from a wide variety of historic sites, points of interest, and a large
sampling of America's parklands. Each photo feature is coupled with a brief explanation.
For further detailed information, links to other related sites are provided, but in no means should they be considered an endorsement.
Mule Ranch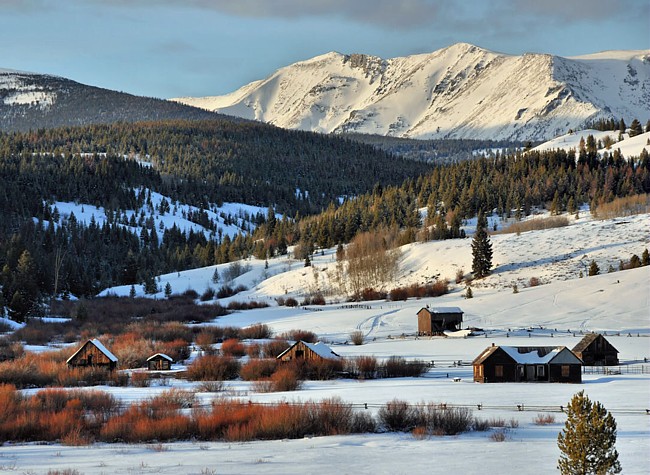 This peaceful winter scene, found beneath the peaks of the Anaconda-Pintler Range, is a fair distance beyond grid. Folks here in the valley are accustomed to an uncluttered view without power lines and all the modern conveniences provided by cheap electrical power. Imagine a home without a light switch on the wall, any running water, or going without a refrigerator or modern bathroom. Of course, homes in the valley are not that primitive, but do rely on solar power, propane generators, and wood burning stoves. Although solar power is still expensive, energy needs can be supplemented with windmills and water turbines. Those that live in an off-grid setting are found all across the country, from New England to California.
This view of Mule Ranch, a former pastureland of the Amalgamated Copper Mining Company during the early 1900s, blends in well with the regionís Mount Haggin Wildlife Management Area. Here under the watchful gaze of Mount Evans, a peak that reaches 10,640 feet, a sparse population enjoys their rustic leisure. In this area of the Anaconda-Pintler Range, mule deer, whitetails and elk are common sights. Occasionally valley residents and Sugar Loaf Lodge guests may spot a black bear.
With America's desire for increased domestic energy production, current debates should consider further destruction of our environment. Perhaps vacationing off the grid is a great way to experience an alternative lifestyle.
Copyright ©2011 Benjamin Prepelka
All Rights Reserved