Scenic USA - Washington
Scenic USA offers a collection of select photographs from a wide variety of historic sites, points of interest, and a large
sampling of America's parklands. Each photo feature is coupled with a brief explanation.
For further detailed information, links to other related sites are provided, but in no means should they be considered an endorsement.
Shi Shi Beach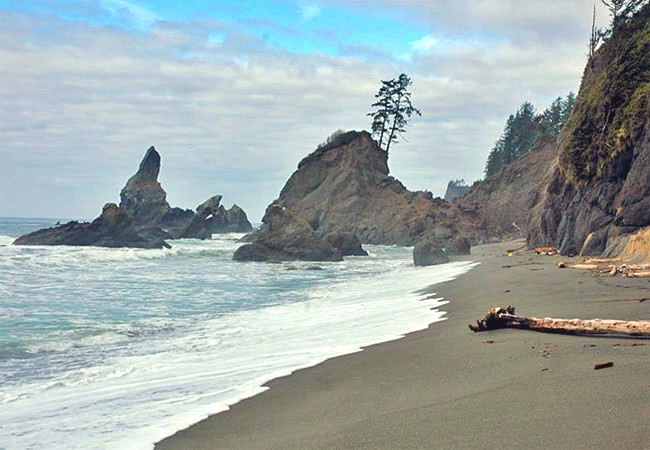 Taking up nearly a million acres of the Olympic Peninsula, Olympic National Park boasts three distinct eco systems, with the majority of the park (95 percent) covered in pure wilderness area. From the Pacific beaches, the terrain quickly climbs inland toward glacier capped mountain peaks. Park experiences here range from a walk through a rain forest, to wildlife watching or a climb upward into a sub-alpine setting.
For beach-lovers, a day hike to Shi Shi Beach is a must. One of the latest additions to the park, Shi Shi (Shy Shy) Beach is now reached over a two mile trail. Named best natural beach by the Travel Channel, it's easy to imagine the struggle to add this section of parkland in today's market of beachside real estate. Located adjacent to the Makah Reservation, the Makahs have laid out a new trail and boardwalk to the beach. For the first mile, beach hikers follow a trail through a Sitka spruce forest, over coastal bogs, a wade through Petroleum Creek and out to the overlooking shoreline bluffs. Here, it's a short descent out to the beach. First time Shi Shi beach visitors will marvel at the sea stacks, caves and sea arches. Fascinating tide pools are filled with sea anemones, sea stars, limpets and sea urchins. Beach-goers are warned to watch the incoming tide, slippery terrain and the need for overnight permits. The Point of Arches is said to be the most stunning collection of sea stacks you'll ever see. Although there is plenty of competition, this could be the most striking beach in Washington State.
Copyright ©2011 Benjamin Prepelka
All Rights Reserved