Scenic USA - Florida
Scenic USA offers a collection of select photographs from a wide variety of attractions, points of interest, historic sites, state and
national parks found throughout the United States. Each photo feature is coupled with a brief explanation.
For further detailed information, links to other related sites are provided.
Cape Florida Lighthouse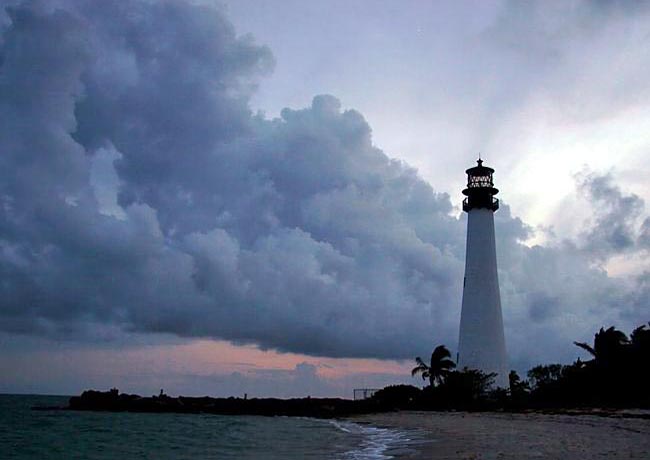 Bill Baggs State Park takes in the southern tip of Key Biscayne, just south of downtown Miami. The 400 acre park is named for William C. Baggs, Miami news editor who lead the campaign to save Key Biscayne from development. This popular get-away features picnic and swimming areas along a mile long beachfront that was voted one of the top ten beaches in the United States, in 2005. Anglers also enjoy some of the finest shoreline fishing from the park's seawall. One of the oldest structures in Miami-Dade area, dating back to 1856, is the park's outstanding landmark. The Cape Florida Lighthouse, damaged by Hurricane Andrew, was newly refurbished in 1996, just in time for Miami's centennial celebration.
The original light was built in 1925 and lasted only eleven years. The lighthouse came under attack as Seminole Indians were hoping to discourage encroaching settlers. Only the assistant lightkeeper and his handyman were on duty during the skirmish. The handyman was killed, the structure was set ablaze and the wounded lightkeeper was left for dead, only to be dramatically rescued the following day. Indian hostilities kept the light from being rebuilt for 20 years.
In this striking Cape Florida Lighthouse view, the remnants of Hurricane Rita paint the sky with thick cloud bands. Rita's gloomy backdrop creates dramatic contrast with the white-brick tower along Biscayne Bay.
Copyright ©2007 Benjamin Prepelka
All Rights Reserved