Scenic USA - Georgia
Scenic USA offers a collection of select photographs from a wide variety of attractions, points of interest, historic sites, state parks and
national parks found throughout the United States. Each photo feature is coupled with a brief explanation.
For further detailed information, links to other related sites are provided.
Christ Church Frederica
Photos by Holly and John Patrick

Mimicking Georgia's Coastal Plains Region landscape, a chain of barrier islands separate the Atlantic Ocean from the mainland. James Oglethorpe and a small band of English settlers arrived on St. Simons Island in 1736, establishing a new colony. Some of the first church services there were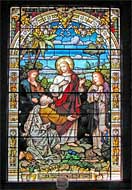 held under the limbs of a huge oak tree. Considered as the founding fathers of Methodism, John and Charles Wesley included area natives in their services. Church services continued in their homes for decades, until the first church building was constructed in 1808. Sadly, the building was thoroughly damaged during the Civil War.
Today's Christ Church Frederica, nestled under a shady canopy of moss draped oaks, dates back to 1884. The Gothic style church, with its defining belfry, was assembled by shipbuilders and sponsored by lumberman Anson Dodge. Losing his bride on a worldwide honeymoon, Dodge ensured his wife's memory by dedicating the church to her, and entombing her body under the altar. All the exquisite stained glass appear as masterpieces. While Tiffany is represented with two panels, the largest (inset photo) was designed and executed in Germany.
At one time Christ Church was the only house of worship on St. Simons Island, attended by residents from 14 surrounding plantations. Today, more than 1000 members are involved in church activities, community services, and worldwide charities. The church is open for tours nearly every day in the afternoons, with the cemetery closed every Wednesday for routine maintenance.
Copyright ©2010 Benjamin Prepelka
All Rights Reserved