Scenic USA - Washington
Scenic USA offers a collection of select photographs from a wide variety of attractions, points of interest, historic sites, state and
national parks found throughout the United States. Each photo feature is coupled with a brief explanation.
For further detailed information, links to other related sites are provided.
Seattle Skyline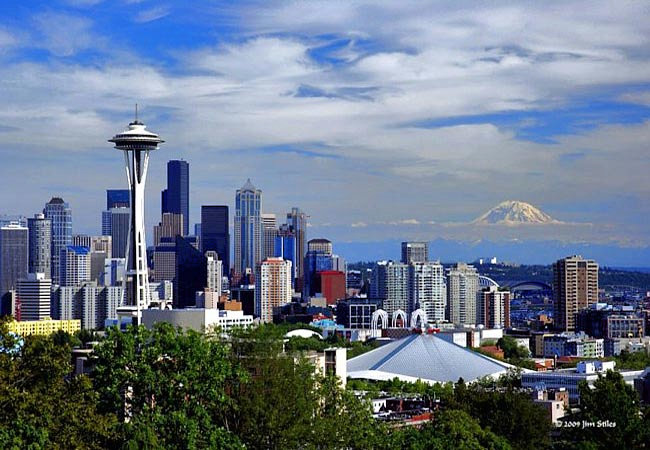 This Seattle skyline view, with its Space Needle thrust skyward and Mount Rainier seeming to float in the distance, paints one of the most recognized city scenes in the world. A trip to the top of the Needle quickly reveals that Seattle grew up on the shores of Puget Sound. The waterfront at Elliott Bay is a flurry of activity as cars and trucks dart in and out of city streets, hundreds of passengers board the Sound's ferries, tugs move huge ships in and out of the harbor, while gulls and foghorns break the steady buzz.
Along with the arrival of the Great Northern Railway came a devastaing fire in 1889, reducing more than 30 blocks to ashes. Seattle, named for a friendly Indian chief, quickly recovered. The town went on to play host to its first World's Fair in 1909, spurring on more development.
Today, visitors will find the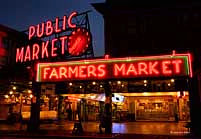 metropolis steeped in arts and entertainment. Museums, parks, gardens, and sports centers are sprinkled throughout the city. One of the highlights for any hungry tourist is a trip to Pike Place Market. Found on the waterfront, this lively market is the oldest operating farmer's market in the United States. The establishment covers seven city blocks, houses 600 vendors and has remained largely unchanged over the last 102 years. Whether its golf, major league sports, sightseeing, shopping, hiking or fine dining, Seattle has it all.
Copyright ©2006-2009 Benjamin Prepelka
All Rights Reserved