Scenic USA - Alaska
Scenic USA offers a collection of select photographs from a wide variety of historic sites, points of interest, and a large
sampling of America's parklands. Each photo feature is coupled with a brief explanation.
For further detailed information, links to other related sites are provided, but in no means should they be considered an endorsement.
Anchorage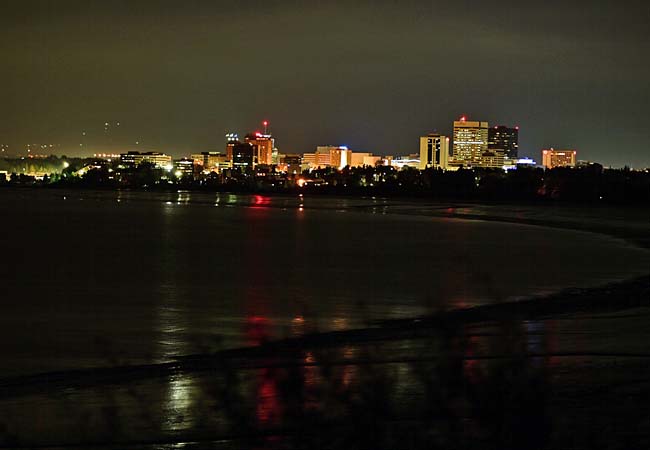 First described by English explorer Captain Cook in 1778, Anchorage has since grown into Alaska's largest city. Although heavily influenced by a strong Russian presence until becoming a U.S. Territory in 1867, the city's biggest boom took hold in 1915 when construction began on the Alaska Railroad. This bustling frontier town has since grown into a great metropolitan area, with 40 percent of state's population taking up residence in the vibrant city.
Incorporated in 1920, Anchorage continued to develop, with a military buildup during the Cold War and handling the flow of oil from Prudhoe Bay. Achieving mega city status, Anchorage is still closely associated with the surrounding Alaskan wilderness. To the north, the city lies next to the foothills of the Chugah Mountains. Active volcanoes, glaciers, and a variety of wildlife lie on the doorstep of Anchorage, offering plenty of Alaskan adventure. Decorated with colorful flower beds and hanging plants in the summer and brightened with the twinkle of a million of lights in the winter, Anchorage is fast becoming known as a tourist town. Anchored by an international airport and enjoying moderate winter temperatures, three ski resorts are among the draw of winter sport enthusiasts.
It would be impossible to touch on Anchorage history and not mention the devastation brought on by the Good Friday Earthquake. On March 27, 1964, Anchorage was rocked with North America's most powerful earthquake. Lying just 80 miles from the epicenter, Anchorage edured the quake for five minutes. Structures collapsed, the earth liquefied, fissures opened, and tsunamis resulted in 130 deaths. Anchorage spent the next decade rebuilding with earthquake resistant structures. The Seward Highway sunk as much as eight feet, requiring a two year project to raise the road above the high tide mark. Today, Anchorage has fully recovered, achieving the title of All American City on four separate occasions. Once known as Seward's Folly, the purchase of Alaska has proven to be one of the best land deals of the 19th century.
Copyright ©2011 Benjamin Prepelka
All Rights Reserved