Scenic USA - California
Scenic USA offers a collection of select photographs from a wide variety of attractions, points of interest, historic sites, state and
national parks found throughout the United States. Each photo feature is coupled with a brief explanation.
For further detailed information, links to other related sites are provided.
Carmel Mission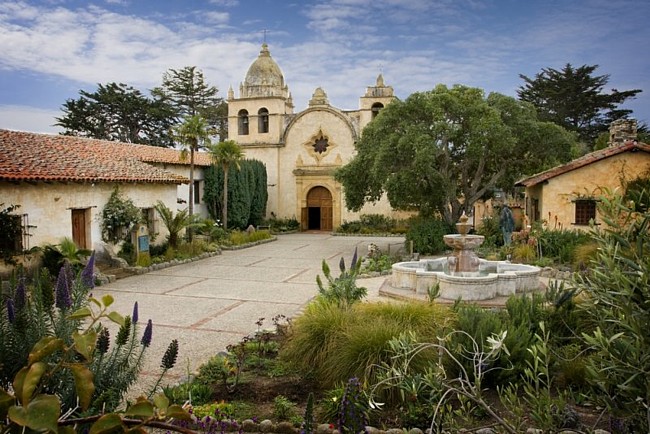 California's Central Coast, sometimes called the Middle Kingdom, is located between the Bay Area and the sprawl of Los Angeles. A string of small communities dot the beautiful coastline. One of the most scenic stretches is found between Big Sur and Monterey Bay.
Monterey's winter days are warm and summers are cooled by sea breezes. This wonderful tree lined coast first attracted Governor Portola and Father Junipero Serra in 1770. Here along the Carmel River a group of Spanish missionaries and soldiers established the area's first mission and presidio. Most of California's missions were built of adobe, but the Mission San Carlos de Borromeo de Carmelo was built of sandstone. The stately mission, radiating its Moorish influence, was constructed by skilled artisans, displaying unusual tapered walls and catenary arches. The Carmel Mission, Father Serra's favorite, became headquarters of a long chain of missions established along the long California coast.
With its cheap land, pleasant climate and sand beaches, Carmel-by-the-Sea began to attract a flow of newcomers in the early 20th century. Small cottages sprouted up, creating small beachside communities. One of the town's newcomers, layman Harry Downe, offered his expertise to an ongoing mission restoration project. Today's renovated Mission San Carlos Barromeo creates a splendid reminder of California's first settlements.
Copyright ©2006-2009 Benjamin Prepelka
All Rights Reserved