Scenic USA - Iowa
Scenic USA offers a collection of select photographs from a wide variety of historic sites, points of interest, and a large
sampling of America's parklands. Each photo feature is coupled with a brief explanation.
For further detailed information, links to other related sites are provided, but in no means should they be considered an endorsement.
Hurst Lime Works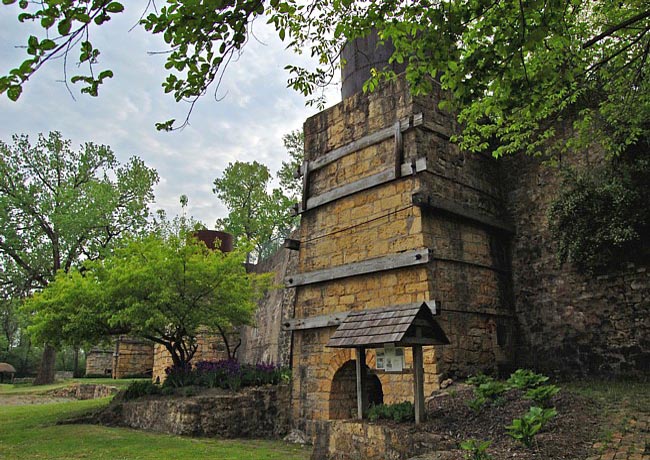 More often than not, a strong reason underlies a new town's development. Quite often the town lies on a convenient transportation route, either a major highway, river channel of railway. Here near Maquoketa, Hurstville was located nearby one of the purest deposits of lime in the country. Having heard of these limestone formations on the Maquoketa River, Alfred Hurst moved into the area in 1870 with his mind set on producing limestone mortar. Before the widespread use of portland cement (invented by a British mason), limestone mortar was one of the main ingredients used to hold stone and brickwork in place.
Producing powdered lime required a back-breaking process, utilizing a lime kiln with temperatures at 1650 degrees Fahrenheit (900 Celsius). The lime kiln burned wood to heat the limestone rock, and required full-time oversite, 24 hours a day and seven days a week. During the first year of production, the Hurst Lime Works produced 100 barrels of lime a week. When all four lime kilns came on-line, production soared to 8000 barrels a day. This was difficult work and the Hurstville labor force was well compensated, receiving wages that topped $1.35 a day.
Alfred Hurst died in 1915, and soon after the Hurst Lime Works dropped off line. Its four lime kilns were last used in 1930 when the value of portland cement became widely accepted. Efforts to list the lime kilns as a national historic site failed, but concerned citizens from the community banded together to begin the lime kiln restoration. With a section of land surrounding the lime kilns secured, funds supplied by the Jackson County Historical Society and local businessmen, plus thousands of hours of volunteer service managed to preserve all four lime kilns. Located two miles north of Maquoketa along U.S. Route 61, not far from the Hurstville Interpretive Center, visitors may walk among the Hurst Lime Kilns. Once an operation that the placed Hurstville on the map, this site holds an interesting piece of Iowa's history.
Copyright ©2011 Benjamin Prepelka
All Rights Reserved