Scenic USA - Pennsylvania
Scenic USA offers a collection of select photographs from a wide variety of attractions, points of interest, historic sites, state and
national parks found throughout the United States. Each photo feature is coupled with a brief explanation.
For further detailed information, links to other related sites are provided.
High Rock Vista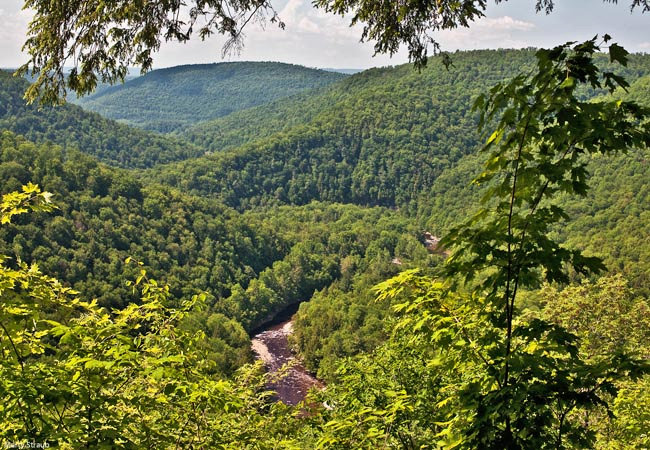 Worlds End State Park is surrounded by the Loyalsock State Forest (previously named the Wyomimg S.F.). This Pennsylvania state park is named for its rugged mountains and impressive canyon views. Seven mountain ranges converge on a point, giving the feeling of being at the ends of the earth. Worlds End appeared on a map in 1872, but other names, such as Whirls Glen and Whirls End, added up for a local dispute. The park's name was changed back to Worlds End in 1943.
The park is located within the Allegheny Plateau and the Sullivan Highlands, part of Pennsylvania's Endless Mountains. Loyalsock Creek, a S-shaped picturesque river, runs through the park and offers a cool swimming area, whitewater boating and miles of fishing opportunities. Hiking trails range from east to rugged. This view is from the High Rock Vista, where June brings out delicate wildflowers, especially mountain laurel, adding color along the trail. Worlds End park, nearby the town of Forksville, is 35 miles from Interstate 180 in east-central Pennsylvania.
Copyright ©2008 Benjamin Prepelka
All Rights Reserved