Scenic USA - Rhode Island
Scenic USA offers a collection of select photographs from a wide variety of historic sites, points of interest, and a large
sampling of America's parklands. Each photo feature is coupled with a brief explanation.
For further detailed information, links to other related sites are provided, but in no means should they be considered an endorsement.
Tennis Hall of Fame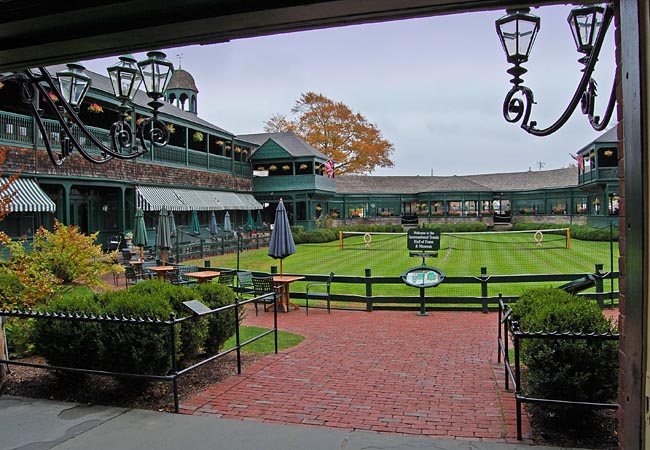 Located in the historic Newport Casino, the International Tennis Hall of Fame chronicles a 130 years of tennis, honors 218 of the game's greatest players, and offers a huge collection of tennis memorabilia. Here in Newport, Rhode Island, the Hall of Fame occupies the first U.S. Lawn Tennis Championships site, dating back to 1881. Evolving into today's U.S. Open, the Newport tournament was moved to New York, and is now one of the four Grand Slam tournaments of the world.
Although tennis was firmly entrenched in Newport, the tennis resort fell on hard times, with its fate looking more like a line of retail shops.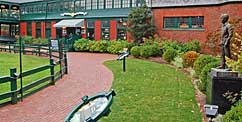 Ready to expand on its rich tennis history, Jimmy Van Alen easily made the leap to the idea of a Tennis Hall of Fame and Museum. Established in 1954, the Hall went on to introduce its first inductees the following year. Beginning in 1975, the Hall went international with England's Fred Perry as the first inductee from another country. Since that time, the list of greats included France's Three Musketeers that dominated tennis in the late 1920's, and most of the best players of the game. Naming the greatest men and women players is often difficult because of the long span of the sport, advances in racquets and fitness, and rule changes in 1968 that allowed amateurs and professionals to compete together. The Hall makes every attempt to include all the tennis greats. Here at the site of the oldest grass courts in America, all you'll need is your favorite racquet.
Copyright ©2011 Benjamin Prepelka
All Rights Reserved