Scenic USA - Oregon
Scenic USA offers a collection of select photographs from a wide variety of attractions, points of interest, historic sites, state and
national parks found throughout the United States. Each photo feature is coupled with a brief explanation.
For further detailed information, links to other related sites are provided.
Hells Canyon - Copper Creek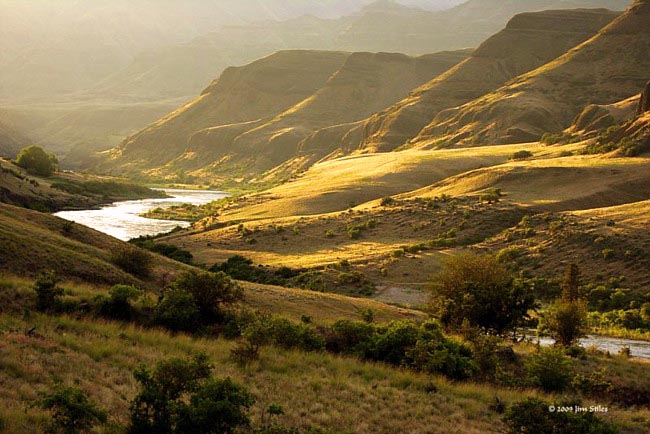 Hells Canyon, carved by the powerful Snake River, holds the record as the deepest canyon in North America. Out-measuring the depths of the Grand Canyon, the deepest section of Hells Canyon drops 7,913 feet from He Devil Mountain in the Seven Devils Range. This awe inspiring canyon creates almost half the border between the states of Oregon and Idaho. Here, 67 miles of the Snake River is surrounded by Hells Canyon National Recreation Area. Nearly half the Snake has been designated as a Wild and Scenic River. The river corridor, including a quarter mile swath of shoreline on each side, is exempt from wilderness rules. More exceptions allow power boat tours access to the river.
This tranquil view on the western rim, captures a quiet Snake River, long before river traffic echoes from the canyon walls. Here at the Copper Creek site, nearby the Hells Canyon Reservoir, steep ridges and cliffs have been tempered by a millennium of erosion. One of a dozen trails, Copper Creek Trail #1890 leads out into the wilderness and more amazing canyonland views.
Copyright ©2006-2009 Benjamin Prepelka
All Rights Reserved