Scenic USA - Wisconsin
Scenic USA offers a collection of select photographs from a wide variety of historic sites, points of interest, and a large
sampling of America's parklands. Each photo feature is coupled with a brief explanation.
For further detailed information, links to other related sites are provided, but in no means should they be considered an endorsement.
Old Kenosha Light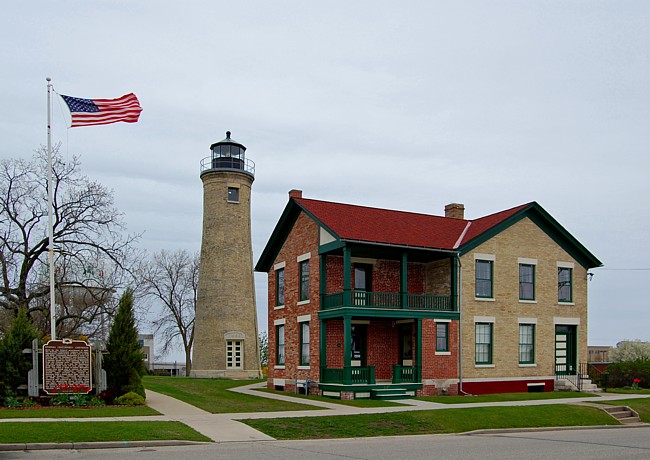 Even thought the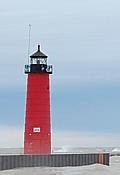 Old Kenosha Lighthouse dates back to 1866, it was actually the third lighthouse built on this site. Situated on top of an overlooking bluff, the old Kenosha Light Station was the first navigational beam seen by Wisconsin bound mariners leaving Chicago. Built of cream-colored Milwaukee brick, the lighthouse used a fourth order Fresnel lens, perched on top of the 55 foot tower. Its tenure lasted 40 years, eventually replaced by the Kenosha North Pier Light. With no particular use other than displaying storm warning flags, the old lighthouse languished.
Offering one of many lighthouse restoration success stories around the Great Lakes, the Old Kenosha Lighthouse, or Southport Light, was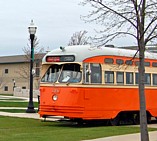 rescued by the Kenosha Historical Society with assistance from the State Historical Society of Wisconsin. The light station has been returned to its former splendor. Now doubling as the Southport Light Station Museum, the residence and tower are open on weekends from May through September. This is a popular stop on Simmons Island, and a weekend crowd usually gathers while waiting patiently for a turn to climb to the lantern room. Historic harbor maps, lighthouse bric-a-brac, story boards and 1908 period furnishings fill the downstairs keeper's quarters-museum. From Simmons Island Park, you may ride the streetcar for a quarter, have a picnic lunch, and view the North Pier Lighthouse and its day markers.
Copyright ©2011 Benjamin Prepelka
All Rights Reserved