Scenic USA - Alabama
Scenic USA offers a collection of select photographs from a wide variety of historic sites, points of interest, and a large
sampling of America's parklands. Each photo feature is coupled with a brief explanation.
For further detailed information, links to other related sites are provided, but in no means should they be considered an endorsement.
Sipsey Fork
Photo by Ben Prepelka
Inset photo - Falls Creek Falls by Anthony Poston

Often called land of a thousand waterfalls, the William B. Bankhead National Forest is Alabama's largest. Those unfamiliar with Alabama's scenic wonders may be surprised at the size of this 100,000 acre forest, and more so, a land with so many waterfalls.
Centered within the Bankhead National Forest, a 25,000 acre parcel makes up the Sipsey Wilderness, the second largest wilderness land east of the Mississippi River. This remote wilderness area boasts a 55 mile trail system and the 60 mile long Sipsey Fork of the West Fork River. This Wild and Scenic River (once the Black Warrior River) offers a variety of recreation ideas.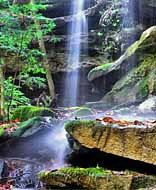 Along with hiking, this section of Alabama's wild outdoors is great for backcountry camping, photography, fishing, canoeing, hunting and kayaking. Sliced up by a maze of tributaries, the Sipsey Wilderness abounds with natural canyons, wild flowing creeks, waterfalls, and limestone bluffs. Native Americans have also contributed to the lure of the Sipsey. This premier site is decorated with prehistoric drawings, rock carvings and petroglyphs.
North of Double Springs, Route 33 leads into the Bankhead National Forest. Following County Road 60 to the west, trailheads and access points lead into the Sipsey Wilderness. The only stop that is clearly marked is Sipsey River Picnic Area. This popular stop leads to one of the most popular waterfalls sites. Foot Trail 200 leads northward along the Sipsey River for 4/10ths of a mile, where FT 209 branches off to Falls Creek Falls.
Copyright ©2011 Benjamin Prepelka
All Rights Reserved