Scenic USA - Arizona
Scenic USA offers a collection of select photographs from a wide variety of attractions, points of interest, historic sites, state and
national parks found throughout the United States. Each photo feature is coupled with a brief explanation.
For further detailed information, links to other related sites are provided.
Petrified Forest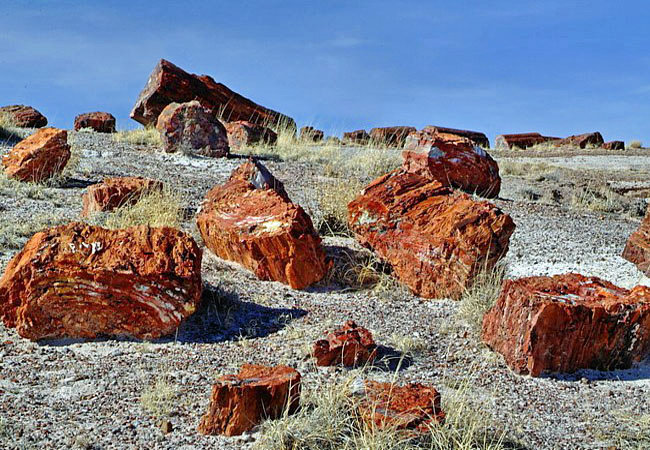 Arizona's northeast corner is home to Navajo and Hopi tribes. Miles of dramatic canyons and colorful desert sands stretch out across this land along the Little Colorado River, from Holbrook to Marble Canyon. The Petrified Forest National Park encompasses almost 100,000 acres of Painted Desert hills and one of the largest collections of petrified wood.
It's hard to imagine that this arid red-rock country was once covered in lakes, streams and immense 200 foot pine trees. Previously dominated by dinosaurs and a lush tropical forest, the park now houses a collection of 70 million year old trees now made of colored silica rock. Stained with nature's paint palette, wood cells were replaced with minerals colored with iron's reds, yellows and browns. Cobalt and chromium created blue and green crystals. Carbon and manganese added blacks and pinks to this petrified wood.
This marvelous collection of painted land and a petrified forest spans Arizona's Interstate 40 and the Puerco River. The park is easily accessed from the Interstate, and its park road winds through 28 miles of desert land, with plenty of pullouts and grand viewpoints.
Copyright ©2006-2009 Benjamin Prepelka
All Rights Reserved