Scenic USA - North Carolina

Historic Edenton
---
---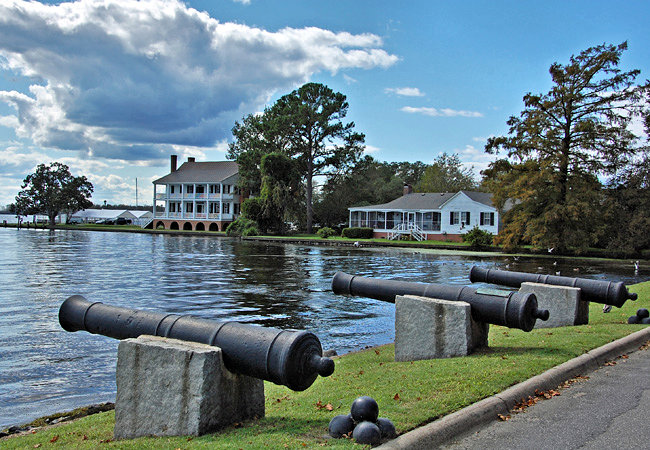 While inhabited by Chowanoc and Weapemeoc tribes, present day Edenton was most likely discovered by Sir Walter Raleigh's first expedition in the late 1580s.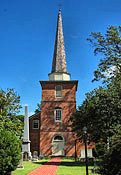 It would take another 70 years before Virginia colonialists would settle the beautiful port area. Incorporated in 1722, Edenton became North Carolina's second oldest town. By 1740, the town streets were lined with houses, St. Paul's Episcopal Church (inset) towered over Church Street, and piers extended into Edenton Bay.
This Water Street view looks out into Edenton Bay, with the 230 year old bayside Barker House taking advantage of the great viewpoint and cool summer breezes off the water.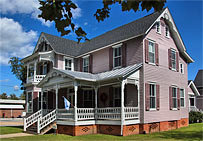 A line of Revolutionary War era cannons line the street, offering another unique story of Edenton history. First established in 1712, the town is well known for its Jacobean, Federal, Greek Revival and Victorian architecture. The historic district is made up of numerous historic landmarks and downtown shops and businesses. During the years prior to the Revolutionary War the city thrived and Edenton's residents exhibited their wealth in fine architecture.
Setting the tone for the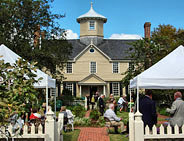 next century, a 1795 hurricane silted up the Roanoke Inlet, bringing ship traffic to a halt and severely limiting trade. When the Dismal Swamp Canal was completed to the north in 1805, the town began its 100 year slumber.
Today, colonial history comes alive for Edenton. Starting off at the Ziegler House (inset), now Edenton's visitor center, you'll find everything you need for an informed self-guided tour. Don't pass up the most unique Jacobean styled Cupola House (inset), St Paul's Church and Edenton's beautiful bay area.

Area Map
---
Nearby Points of Interest
---
Copyright © 2012-16 Benjamin Prepelka
All Rights Reserved