Scenic USA - Texas
Scenic USA offers a collection of select photographs from a wide variety of attractions, points of interest, historic sites, state and
national parks found throughout the United States. Each photo feature is coupled with a brief explanation.
For further detailed information, links to other related sites are provided.
Guadalupe Mountains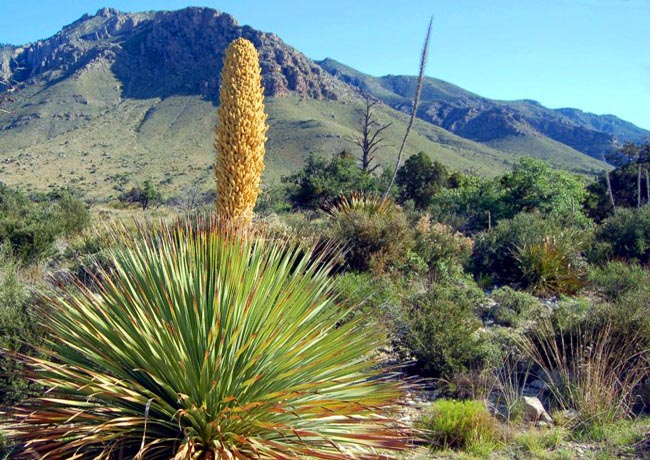 Far to the west in Big Bend Country lies the only true wilderness in Texas. Dedicated in 1962, the Guadalupe Mountains National Park contains an unusual mix of plants and animal life. Forests of pine, aspens and maples create a stark contrast to the thick blanket of sands, mineral salts and desert plantlife. The park preserves one of the rare examples of an ancient fossilized reef. Once a seabed 250 million years ago, the reef gives geologists and scientists a look at sea creatures of the Permian Age.
Guadalupe Peak, the highest point in Texas, tops the range at 8,749 feet. The park is laced with 80 miles of trails, but the park service is quick issue a warning that this rugged land is for the experienced and well prepared. Day hikes through McKittrick Canyon are especially colorful with fall's brilliant foliage. The trail eventually leads hikers to a high ridge and spectacular views of the park's majestic scenery. Overnight backpackers require permitting, available at the Pine Springs Visitor Center. The tiny Pine Springs community is just north of the park, near New Mexico's border. Pine Springs was a stop on the famous Butterfield Overland Mail Route. At The Pinery, a crumbling foundation of the 1858 stagecoach station is all that remains.
Copyright ©2008 Benjamin Prepelka
All Rights Reserved