Scenic USA - Utah
Each day Scenic USA presents a new and exciting photo feature from somewhere in the United States. Chosen from a wide variety
of historic sites, city scenes, backcountry byways, points of interest and America's best parklands, this site offers the viewer hundreds
of unique travel destinations and vacation ideas. Each feature is coupled with a brief explanation. For further detailed information, links
to other related sites are provided, but are never to be considered an endorsement.
Dinosaur National Monument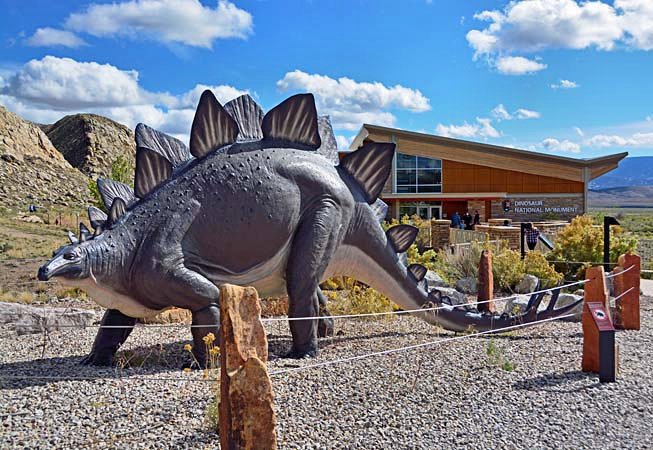 References to dragon bones date back thousands of years, but the first scientific descriptions of dinosaurs began to emerge in the early 1800s. Before the word dinosaur existed, huge fossil bones and teeth set off a new era of scientific exploration. Found throughout the world, dinosaur fossil remnants still stir our imaginations.
Here at the Dinosaur National Monument visitors will find the largest quarry of Jurassic period fossils ever discovered. More than 350 tons of rock and fossils have been excavated on site, including full dinosaur skeletons. Spanning the Utah-Colorado border, this national park is looking forward to reopening the Quarry Visitor Center this fall. For dinosaur fans, the reopening will once again display the classic cliff face were hundreds of bones are clearly visible.
Besides dinosaur bones and fossil fragments, the Dinosaur National Monumentís great outdoors offer plenty of room for recreation. Deep canyons, sculpted mountains, and brisk flowing rivers are another part of the lure of the park's 200,000 acres. Exciting Green River rafting trips, backcountry hiking trails and miles of rugged scenic drives lead park visitors to some of the best viewpoints of these rugged canyonlands. Ancient petroglyphs, historic log cabins and a maze of sharp-sided canyons are more of what you'd expect on the Utah-Colorado Border.
Copyright © 2011 Benjamin Prepelka
All Rights Reserved