Scenic USA - North Carolina
Scenic USA offers a collection of select photographs from a wide variety of attractions, points of interest, historic sites, state and
national parks found throughout the United States. Each photo feature is coupled with a brief explanation.
For further detailed information, links to other related sites are provided.
Elizabethan Gardens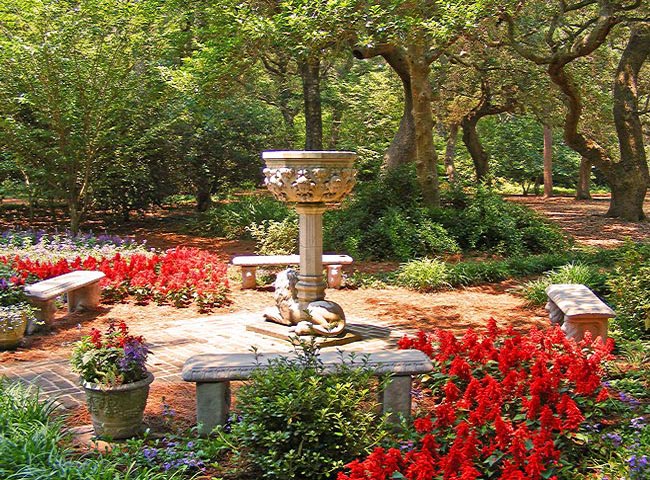 The Elizabethan Gardens in Manteo, North Carolina, serve as a beautiful memorial to the first English colonists who came to North America in 1584, only to disappear without a trace. The Roanoke Island gardens, founded and supported by the Garden Club of North Carolina Inc, are located on the site at which these colonists first landed.
The property contains more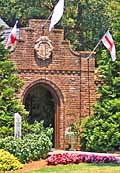 than 500 different plant species. Featured collections include hydrangeas, camellias, historic herbs and a wide diversity of native coastal species. Visitors can take a self-guided tour of Shakespeare's Herb Garden and the Queen's Rose Garden as they walk down paths surrounded by blooming flowers, green trees and plants and the formal sunken knot garden. Old and new statuary is strategically placed throughout, including a marble statue of Virginia Dare, the first child born in the Americas to English parents. A bronze likeness of Queen Elizabeth I, reportedly the largest of its kind in the world, is also found on site. On the south end of the 300-foot Great Lawn is the Lion Couchant Birdbath, a white Carrara marble bowl on a marble column with a lion couchant at the base.
Also on the property is the Waterside Theatre, where productions of The Lost Colony are offered each year. The play, written by Pulitzer Prize winner Paul Green and commissioned by residents of Roanoke Island, was written to commemorate the 350th anniversary of Virginia Dare's birth. Adjacent to the gardens is the Fort Raleigh National Historic Site, preserving known portions of England's first New World Settlements.
Copyright ©2008 Benjamin Prepelka
All Rights Reserved