Scenic USA - Missouri
Scenic USA offers a collection of select photographs from a wide variety of attractions, points of interest, historic sites, state and
national parks found throughout the United States. Each photo feature is coupled with a brief explanation.
For further detailed information, links to other related sites are provided.
Burfordville Covered Bridge
Burfordville Covered Bridge, once a necessity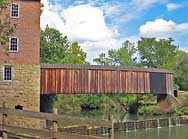 for farmers bringing in grain to the Bollinger Mill, dates back to the Civil War era. The bridge, built of yellow poplar, made use of the Howe truss design, patented just 18 years before.
The 140 foot span, the Whitewater River, and the grist mill are the essentials of Bollinger Mill State Historic Site. The covered bridge is Missouri's oldest, and one of four covered bridges remaining in the state. The side-by-side historic structures provide plenty of photo opportunities. Tours of the old mill are available, with occasional demonstrations. The bridge is off-limits for vehicles, but provides for pedestrian access to the mill and the 43 acre park and picnic area.
Copyright ©2008 Benjamin Prepelka
All Rights Reserved