Scenic USA - Georgia
Each day Scenic USA presents a new and exciting photo feature from somewhere in the United States. Chosen from a wide variety
of historic sites, city scenes, backcountry byways, points of interest and America's best parklands, this site offers the viewer hundreds
of unique travel destinations and vacation ideas. Each feature is coupled with a brief explanation. For further detailed information, links
to other related sites are provided, but are never to be considered an endorsement.
Sapelo Island Lighthouse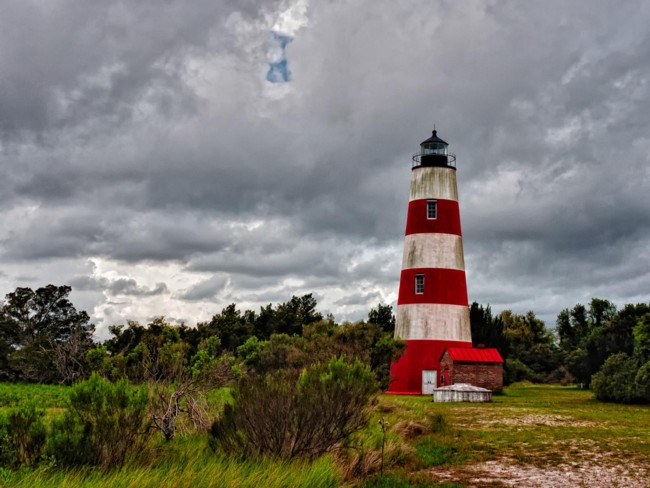 One of Georgia's seven remaining lighthouses, the remote Sapelo Island Light, can only be reached by ferry. Deactivated for over 90 years, the lighthouse was painstakingly refurbished and brought back to life in 1998.
A part of the Sapelo Island history, the lighthouse is quickly nearing its 200th birthday. An important shipping channel for island crops and southern pine, the lighthouse marked the northern entrance to the Doboy Sound and the port at Darien. Severely undermined by the hurricane of 1898, the lighthouse has survived into the 21st century, extolling the merits of New England lighthouse builder Winslow Lewis. Undergoing a remarkable restoration in the 1990s, it's newly replaced wooden spiral staircase allows visitors to climb to the lantern room that was darkened for nearly a century. Views from on top of the 1820 structure take in the R.J. Reynolds Wildlife Refuge to the north, and broad dunes and a vast salt marsh to the west. The southern end of the island is not only the setting for the lighthouse and oil house, but also preserves NOAH'S Sapelo Island National Estuarine Research Reserve.
Island tours include the African-American community of Hog Hammock, the marine institute, the historic R. J. Reynolds Mansion, and the red and white striped lighthouse.
Copyright © 2011 Benjamin Prepelka
All Rights Reserved