Scenic USA - Pennsylvania
Each day Scenic USA presents a new and exciting photo feature from somewhere in the United States. Chosen from a wide variety
of historic sites, city scenes, backcountry byways, points of interest and America's best parklands, this site offers the viewer hundreds
of unique travel destinations and vacation ideas. Each feature is coupled with a brief explanation. For further detailed information, links
to other related sites are provided, but are never to be considered an endorsement.
Paden Twin Bridges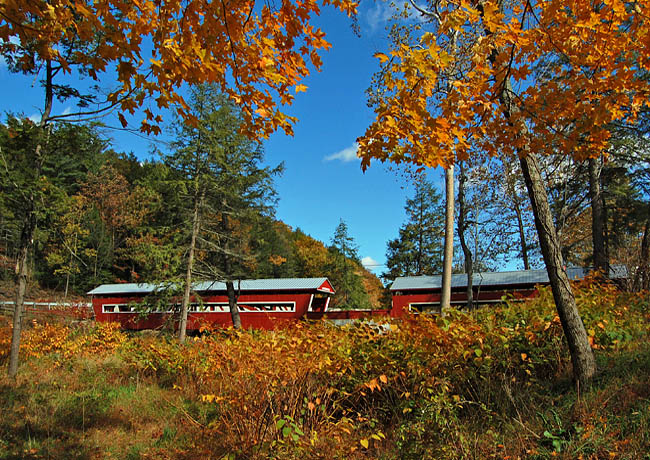 Seeing the vast devastation caused by Hurricane Irene's floodwaters in America's northeast, we all realize the vulnerability of the country's covered bridges. These historic subjects of autumn festivals and covered bridge tours can quickly vanish with the powerful forces of moving water, witnessed across the state of Vermont during August's passing storm.
Here in Columbia and Montour counties, stretching across the Susquehanna River Valley, covered bridge fans will find a large concentration of these historic wooden bridges. One of the few sites in America tht feature a set of twin bridges, the East and West Paden Bridges create the centerpiece for Twin Bridges County Park. Built in 1884 by W. C. Pennington for 750 dollars, the twins were named for John Paden who operated a nearby saw mill. When bypassed by a modern concrete bridge in 1963, Columbia County residents were treated to picturesque park setting and two freshly painted bridges. The wind storm during November, 2003, that sent a huge tree crashing into the roof of the West Paden Bridge, paled in comparison to the no-named storm of June, 2006. Just east of the town of Forks, Huntington Creek turned into a raging torrent.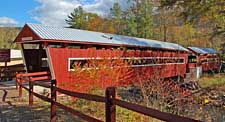 By early afternoon the 122 year old West Paden Bridge was ripped from its rock piers and sent downstream in pieces.
The view catches the twins reunited when FEMA provided the funds for a replacement bridge in 2008. Built by the Lycoming Supply of Williamsport, the freshly restored 103 foot Burr arch bridge completes this rare scene of twin covered bridges.
Over two dozen bridges send Columbia and Montour County bridge fans over the back country roads of central Pennsylvania during the Annual Covered Bridge and Arts Festival. Every year, in early October, the Columbia-Montour Visitor Bureau holds the free festival. Amusement park rides, plenty of food, music and square dancing are part of this fun-filled festival weekend.
Copyright © 2011 Benjamin Prepelka
All Rights Reserved