Scenic USA - Vermont
Scenic USA offers a collection of select photographs from a wide variety of attractions, points of interest, historic sites, state and
national parks found throughout the United States. Each photo feature is coupled with a brief explanation.
For further detailed information, links to other related sites are provided.
Scott Covered Bridge
Nearly a century ago Vermont's residents enjoyed the convenience of covered bridges scattered over the countryside. From the original count of more than 600 bridges, holdovers today total only 114. Most have been lost to flood waters; but some were removed for development, some destroyed by arson, and a few have simply given in to old age. Vermont's Scott Bridge is an exception, surviving more than 130 years.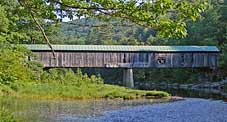 The longest bridge in the state, a State Historic Site since 1955, needs all 277 feet to cross the broad West River.
Scott Bridge, no different than any other wooden structure, was occasionally found needing repair. Subject to high wind and water damage, the three span bridge has been re-roofed, timbers replaced, and structural steel added for support. Located outside of Townshend, the bridge no longer supports vehicle traffic. For those on foot, it's a long walk in the dark from end to end.
Copyright ©2008 Benjamin Prepelka
All Rights Reserved