Scenic USA - Florida
Scenic USA offers a collection of select photographs from a wide variety of attractions, points of interest, historic sites, state and
national parks found throughout the United States. Each photo feature is coupled with a brief explanation.
For further detailed information, links to other related sites are provided.
Rockledge Drive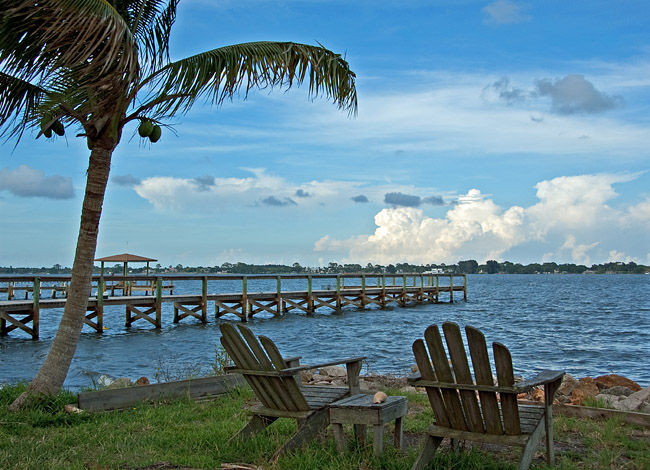 Magnificent orange groves, stately homes and fine resort hotels, set in a rich coverage of tropical foliage, describe an 1880s look at the oldest resort town on the central Florida eastern coast. By 1887 the town of Rockledge began to boast of its 400 room Indian River Hotel and the three story Plaza Hotel. Long before Henry Flagler's railroad extended southward, passenger service to Rockledge was handled by the Indian River Steamboat Company.
This winter resort was first settled in 1876, when Cephas Bailey Magruder built his home on a rocky bluff along a winding, narrow, Indian River pathway. Calling his residence the rockledge home, Magruder's name was eventually passed on to the entire town.
Rockledge Drive hasn't changed a great deal over the last century. Still winding along the river's edge, S.R. 515 carries the State of Florida designation of scenic drive, established by the 1965 state legislators. The narrow Indian River Road is still adorned with century year old oaks, draped in long strands of moss. The road is now lined with a broad mix of homes, some listed on the National Register of Historic Places, and others, modern replacements taking full advantage of their river views. Docks and boat houses are found along the riverside, recalling an era when the Indian River Yacht Club was formed (1880) and a time when river transportation was the only link to the outside world.
Copyright ©2006-2009 Benjamin Prepelka
All Rights Reserved