Scenic USA - Florida
Scenic USA offers a collection of select photographs from a wide variety of attractions, points of interest, historic sites, state and
national parks found throughout the United States. Each photo feature is coupled with a brief explanation.
For further detailed information, links to other related sites are provided.
Ford Estate
Henry Ford was born and raised on a Michigan farm, nearby today's town of Dearborn. Young Ford quickly demonstrated his love for mechanics and machinery. By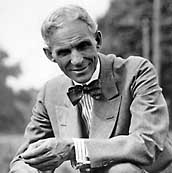 age 16, Ford left the farm and headed to Detroit, taking a job as a machinist's apprentice. At age 33, Ford was seen driving through the streets of Detroit with his new invention, the quadricycle. Soon afterward, Henry Ford left his employer, the Edison Company, and began his famous career. By 1921, Hery Ford controlled 55% of American automobile market. In 1927, more than 15 million Model Ts rolled from the assembly line.
Pictured here is the winter estate of Henry Ford, a National Registered Historic Site, now owned by the City of Fort Myers. The Callosahachee River home is coupled up with a tour of the Edison Estate, Ford's next-door neighbor and long time friend.
Copyright ©2007 Benjamin Prepelka
All Rights Reserved