Scenic USA - California
Scenic USA offers a collection of select photographs from a wide variety of attractions, points of interest, historic sites, state parks and
national parks found throughout the United States. Each photo feature is coupled with a brief explanation.
For further detailed information, links to other related sites are provided.
Kings Canyon Scenic Byway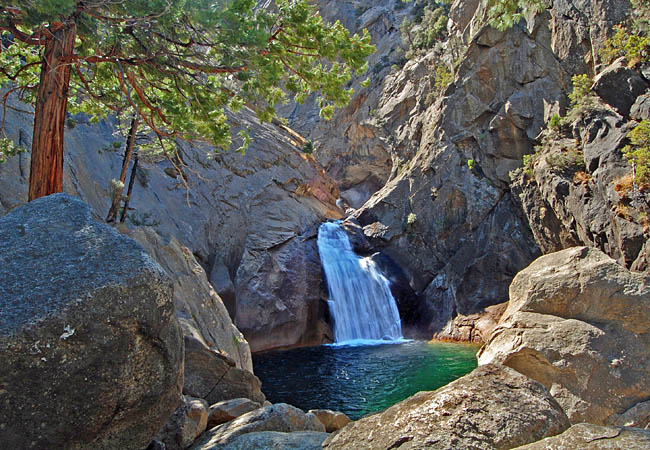 Although Kings Canyon National Park is a fairly large piece of real estate, only a small fraction is accessible by auto. Surrounded by the Monarch Wilderness and Jennie Lakes Wilderness, the Kings Canyon Scenic Byway enters the park from the west and dead ends under the gaze of the Grand Sentinel, an 8500 foot peak that sets the tone for a formidable Sierra-Nevada Range. This huge roadblock tells backcountry hikers that they have the rest of the park for themselves.
For the remainder of Kings Canyon visitors,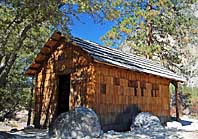 the byway passes Boyden Cave, roadside Grizzly Falls, a string of canyon overlooks, Knapp's Cabin, and a trailhead to Zumwalt Meadow. One of the standouts along the highway is featured in this view, Roaring River Falls. Found at the end of a short pathway from the byway, the 25 foot waterfall is just one of the cascades along the Roaring River as it drops down to the South Fork of the Kings River. Scrambling beyond the marked trail to see more of the Roaring Creek Cascades is ill-advised, as the summer flow is quite turbulent, and lives up to its name. This autumn view shows a tame Roaring River, but still creates a beautiful waterfall and inviting emerald pool.
Copyright ©2010 Benjamin Prepelka
All Rights Reserved