Scenic USA - California
Each day Scenic USA presents a new and interesting photo feature from somewhere in the United States. Chosen from a wide variety
of historic sites, city scenes, backcountry byways, points of interest and America's best parklands, this site offers the viewer hundreds
of unique vacation destinations and photographic subjects. Each feature is coupled with a brief explanation. For further detailed
information, links to other sites are provided, but are never to be considered an endorsement.

Other nearby
Points of Interest
At no extra cost to you, using this link helps support Scenic USA when you shop on-line at Amazon
Kings Canyon Scenic Byway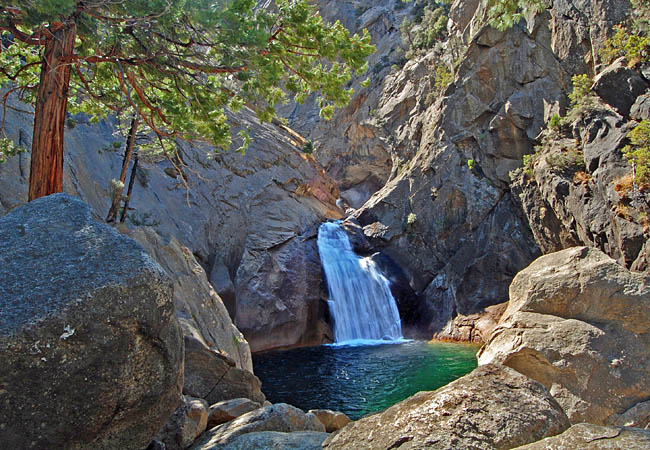 Although Kings Canyon National Park is a fairly large piece of real estate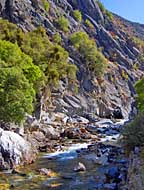 in western park terms, only a fraction is accessible by auto. Surrounded by the Monarch Wilderness and Jennie Lakes Wilderness, and just south of the very famous Yosemite National Park, Kings Canyon showcases some of the largest trees on earth and one of the deepest canyons in the United States.
The Kings Canyon Scenic Byway enters into the park from the west, following the Kings River and dead ends under the gaze of Grand Sentinel, an 8500 foot peak. And that granite roadblock sets the tone for this entire area in the Sierra-Nevada Mountains. Grand Sentinel, marking the beginning of your byway return trip, also signals to backcountry hikers that they will have the rest of the park for themselves. For the remainder of Kings Canyon visitors,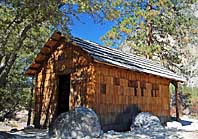 California Route 180 (the byway) passes Boyden Cave, a string of canyon overlooks, Knapp's Cabin, and the trailhead to Zumwalt Meadow.
Two other stops on this scenic highway feature waterfalls. Grizzly Falls, an 80 foot multi-tiered cascade is complimented with a roadside picnic area. This may be a good place to stop for lunch, as the sound of Grizzly Falls will provide soothing background music. On a short pathway near the end of the byway, Roaring River drops down as the last waterfall before joining the South Fork of the Kings River.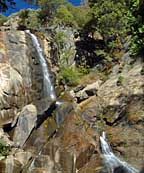 Scrambling beyond the marked trail to see more of the Roaring Creek Cascades is ill-advised as the summer flow is quite turbulent, and lives up to its name. This autumn view shows a tame Roaring River, but still creates a beautiful waterfall and inviting emerald pool. Not far from the highway, visitors may stop and see Knapps Cabin. Built in the 1920s, the cabin is the oldest building in Cedar Grove. Used as a storage shed for Kings Canyon expeditions, George O. Knapp conducted several elaborate summer camping trips here in the High Sierra. Kings Canyon trails vary from short and easy paths to strenuous all day backcountry hikes. Zumwalt Meadows, one of prettiest parts of the park, offers a mile and a half loop trail that's handicapped accessible. Without having to plan an overnight excursion into the wild, exploring all the stops on this scenic drive is the next best thing in the park.

Area Map
Copyright © 2010-14 Benjamin Prepelka
All Rights Reserved