Scenic USA - Minnesota
Scenic USA offers a collection of select photographs from a wide variety of attractions, points of interest, historic sites, state and
national parks found throughout the United States. Each photo feature is coupled with a brief explanation.
For further detailed information, links to other related sites are provided.
Two Harbors Lighthouse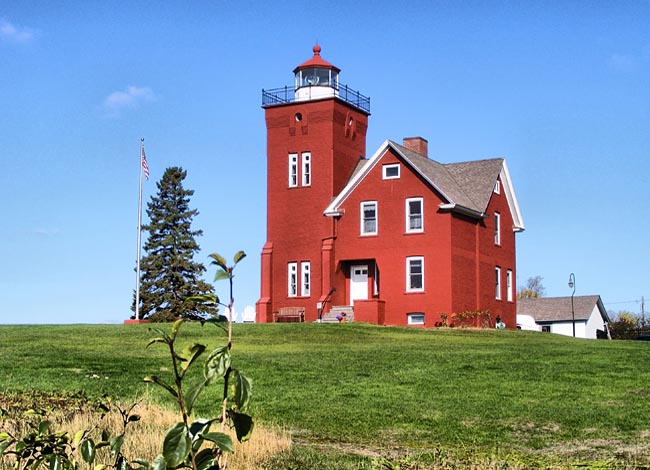 You'll find the town of Two Harbors about 25 miles north of Duluth on Minnesota's North Shore. A trip between the two cities would have taken the better part of a day in the late 1800s due to the lack of roads through this rugged Paul Bunyan territory. During the late 19th century, lake transportation moved goods and passengers to lumber camps along the shoreline.
The Two Harbors name stems from two natural harbors, the Agate Harbor and Burlington Bay. Establishment of the Two Harbor Lighthouse in 1892 propelled the Agate Harbor into a bustling shipping port, recording 1,300 ships moving in and out during the first year. Maritime traffic moved iron ore from the Mesabi Range, lumber from the coastal forests, and Great Lakes passengers.
The Two Harbors Light-station, the oldest operating lighthouse in Minnesota, was built of brick, incorporating the head-keeper's quarters with the light-tower. The 12 foot square tower, nearly 50 feet in height, was constructed with courses of brick laid three deep. Not quite as picturesque as its northern neighbor, the Split Rock Light, the Two Harbors Light still enjoys a flood of summer tourists.
Today, the light-station, listed on the National Register of Historic places, doubles as a bed and breakfast and is operated by the Lake County Historic Society. Restored buildings on the complex are open to the public for tours, all housing some very unique maritime exhibits.
Copyright ©2006-2009 Benjamin Prepelka
All Rights Reserved