Scenic USA - Wisconsin
Each day Scenic USA presents a new and exciting photo feature from somewhere in the United States. Chosen from a wide variety
of historic sites, city scenes, backcountry byways, points of interest and America's best parklands, this site offers the viewer hundreds
of unique travel destinations and vacation ideas. Each feature is coupled with a brief explanation. For further detailed information, links
to other related sites are provided, but are never to be considered an endorsement.
The Dalles of St. Croix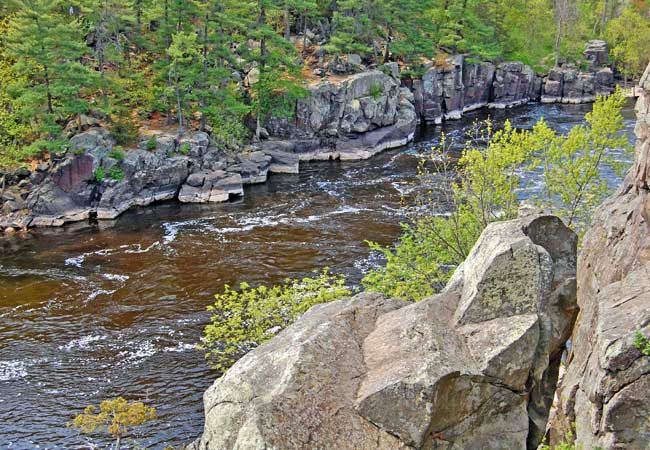 Formed by retreat of the last continental ice sheets, the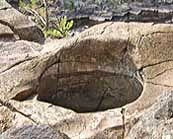 massive Lake Duluth became filled with glacial melt, forming a shoreline 400 feet higher than today's Lake Superior. Eventually ice dams broke, sending its charging waters through layers of ancient volcanic rock. Wisconsinís Interstate Park embodies this ancient event and offers close up views of a steep-walled gorge of the Dalles of the St. Croix River. Carved into a series of terraces, sand and gravel were caught in river eddies, hollowing out glacial potholes on both sides of the river. Across the St. Croix at Minnesota's Interstate Park, the Glacial Gardens section contains more than 80 potholes. One, called the Bottomless Pit, is 10 feet wide and 60 feet deep.
The St. Croix River Riverway separates the states of Minnesota and Wisconsin. Visitors come here to the Interstate Park to see the dramatic gorge and end up with a short geology lesson, plus a little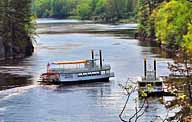 exercise after taking one of parkís rim rock trails.
Although each side of the park operates independently, both offer exciting gorge views, camping areas, abundant wildlife, wildflowers, river boat rides, canoeing and hiking trails. Part of the St. Croix National Scenic Riverway and the western terminus of the Ice Age Trail, Interstate Park is Wisconsinís oldest state park. Clearly one of the stateís best parks, come and see what visitors have enjoyed over the last hundred years.
Copyright © Benjamin Prepelka
All Rights Reserved