Scenic USA - California
Scenic USA offers a collection of select photographs from a wide variety of attractions, points of interest, historic sites, state parks and
national parks found throughout the United States. Each photo feature is coupled with a brief explanation.
For further detailed information, links to other related sites are provided.
Mobius Arch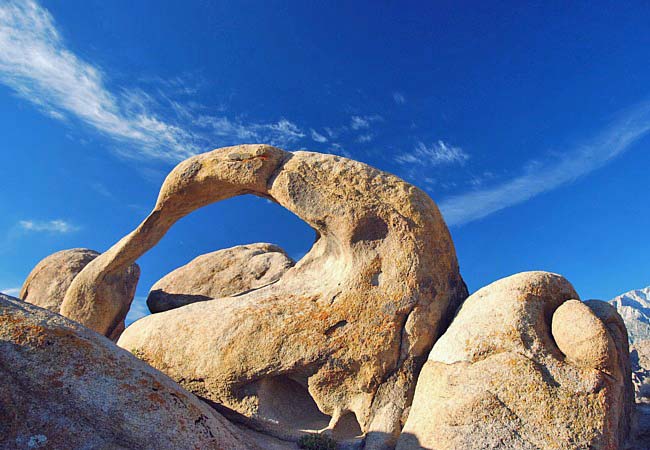 Among a jumble of well weathered rock formations and natural arches, the well named Movie Road began living up to its name in 1939 with the epic film Gunga Din, portraying this unique landscape as Khyber Pass. Continuing in a movie making tradition, dozens upon dozens of cowboy classics continued for years. Today, Lone Pine celebrates a three day Lone Pine Film Festival every October, with visits from film stars and hundreds of visitors dressed in classic western style clothing.
Here in the Alabama Hills, lying in the early afternoon shadows of the majestic Sierra-Nevada peaks and Mount Whitney, the Bureau of Land Management oversees 30,000 acres. Besides it popularity of a movie set, the Alabama Hills Recreation Area entertains thousands of Mount Whitney climbers, Whitney Portal visitors, photographers and arch hunters.
Visitors will find a large collection of rock arches among the highly weathered granite rock formations, including the most notable Mobius Arch, Lathe Arch, the Eye of Alabama and Whitney Portal Arch. Finding these arches can sometimes prove difficult, as they tend to blend well into the background. Recently the trail to Mobius has been lined with rocks, making it much easier to find.
Copyright ©2010 Benjamin Prepelka
All Rights Reserved