Scenic USA - Wisconsin
Scenic USA offers a collection of select photographs from a wide variety of attractions, points of interest, historic sites, state and
national parks found throughout the United States. Each photo feature is coupled with a brief explanation.
For further detailed information, links to other related sites are provided.
Copper Falls
The Bad River weaves its way for more than 30 miles through Ashland County. Originating at Caroline Lake, the river cuts it way through ancient lava flows,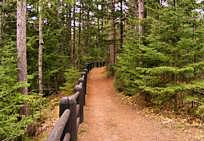 colorful conglomerates, shale and sandstone, and one of the most scenic parks in Wisconsin. The spectacular steep walled canyon and thunderous falls add to the already picturesque Copper Falls State Park. The copper colored water, stained with tree tannins, gave the fast flowing falls it name.
The park was established in 1929 when some of the first bridges and access trails were constructed by returning World War I veterans. The area also features mountain bike trails, prime fishing, plus canoeing and swimming on Loon Lake. The north and south campsites, coupled up with a group tenting area add up to nearly 100 sites. Be reminded this is a popular Wisconsin park, and 100 campsites may not be enough.
Copyright ©2007 Benjamin Prepelka
All Rights Reserved