Scenic USA - Illinois
Scenic USA offers a collection of select photographs from a wide variety of attractions, points of interest, historic sites, state and
national parks found throughout the United States. Each photo feature is coupled with a brief explanation.
For further detailed information, links to other related sites are provided.
National Lincoln Monument
The State of Illinois proudly salutes President Abraham Lincoln as a long time resident and the 16th president of the United States. Here in Springfield, the heart of Lincoln country, visitors will find a close-up look at the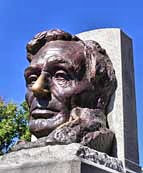 only home that Lincoln ever owned, found at the Lincoln Home National Historic Site.
Just six days after General Lee's surrender at the village of Appomattox Courthouse, the nation was shocked with the announcement of President Lincoln's death. Funeral services were held on April 19, 1865, at the White House, and two days later Lincoln's remains were placed on a special train bound for Springfield, a 1700 mile journey.
Today, the National Lincoln Monument is one of the most popular stops in the capital city. His white granite obelisk and marble burial chamber are found at the Oak Ridge Cemetery, the second-most visited cemetery in America. Abraham Lincoln, one of the most revered U.S. presidents, still inspires young Americans today.
Copyright ©2007 Benjamin Prepelka
All Rights Reserved