Scenic USA - Arizona
Scenic USA offers a collection of select photographs from a wide variety of attractions, points of interest, historic sites, state parks and
national parks found throughout the United States. Each photo feature is coupled with a brief explanation.
For further detailed information, links to other related sites are provided.
Tonto National Monument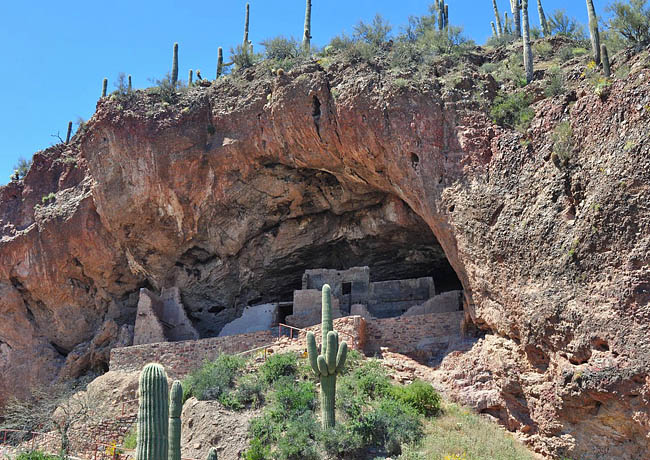 Arizona's Tonto Basin, found in a rich agricultural land of the Sonoran Desert, was first inhabited during the 1st Century. Here, among the sycamore, mesquite and Arizona walnut trees, and alongside the Salt River and Tonto Creek, Eagle Ridge inhabitants planted corn, beans and cotton. Deer, rabbit and quail were plentiful until climate changes forced an over populated community to migrate to a more favorable location.
Tonto Basin was rediscovered during the early 13th Century, once again supporting an ever growing population. Farmland now relyed on an intricate irrigation system, adding more crops to their diet, while still depending on local game. An assortment of painted pottery styles marked the influx on new migrants, leading archeologists to refer to this mixed community as the Salado Culture. A period of increased rainfall brought about an excess in food production, boosting an already dense population. This abundant rainfall, lasting several decades, came to an end, resulting in food shortages and rising tensions among the villages. Some communities moved into protective areas, building defensible structures in sheltered caves. By 1450 all the Tonto Basin residents had fled, scattering in all directions.
Tonto Basin was rediscovered once again in the mid 1870s by soldiers and ranchers. Using the power of the new Antiquities Act, the Tonto National Monument was added as protected parkland in 1907. Piecing together clues from the past, Salado artifacts give today's visitors an idea how early inhabitants successfully coped with the harsh desert environment. Pictured here is the 20 room Lower Cliff Dwelling, fitting into a shallow cave 40 feet high, 85 feet wide and 48 feet deep. Self guided tours along the mile long Lower Cliff Dwelling Trail offer close-up views of this well preserved Salado dwelling. The Tonto National Monument receives about 80,000 visitors a year, with most enjoying early spring's cooler desert temperatures and abundant wildflowers.
Copyright ©2010 Benjamin Prepelka
All Rights Reserved