Scenic USA - Wisconsin
Scenic USA offers a collection of select photographs from a wide variety of attractions, points of interest, historic sites, state and
national parks found throughout the United States. Each photo feature is coupled with a brief explanation.
For further detailed information, links to other related sites are provided.
Dells Mill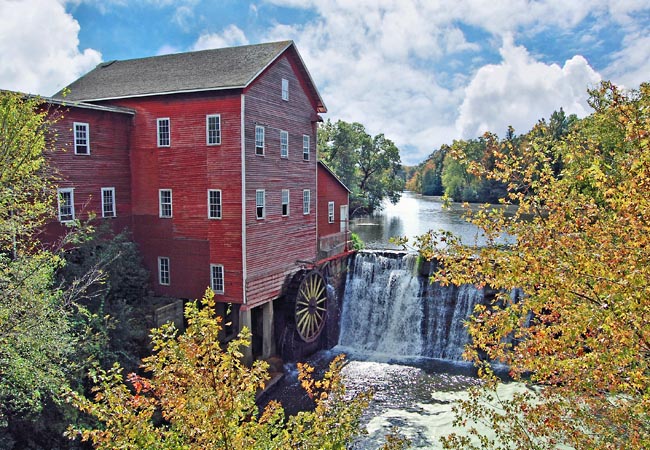 Between 1850 and 1880, Wisconsin farmers produced record amounts of wheat. Before this huge spurt of wheat production, farmers supported 33 grist mills scattered over the state. By 1880, more than 1000 mills went into operation to handle the record quanity of grain. Eventually soil weakened with over production, and farmers having little to show for their efforts, packed up and moved westward. Mills went idle, taken over by the elements.

Dells Mill was one of the hundreds of flourishing mills in Wisconsin. Built in the mid 1800s, the mill exchanged ownership a few times before being transferred to J. Frank Clark. The mill's 16 acres included a boarding house, school and the five story mill. Built alongside Bridge Creek, the mill continued operating for more than a century and has stayed in the Clark family for four generations.
Using an overshot wheel, 3000 feet of conveyor belts and 175 pulleys, the five story mill still grinds grain on special occasions. The building itself is supported by hand hewn timbers, held together by wooden pegs. In 1968 Dells Mill ceased commercial operation and was converted into a museum. The mill, nearby Augusta, Wisconsin, is open for daily tours from May 1st through October and also features antiques and a gun shop.
Copyright © 2009 Benjamin Prepelka
All Rights Reserved