Scenic USA - Kansas
Scenic USA offers a collection of select photographs from a wide variety of attractions, points of interest, historic sites, state and
national parks found throughout the United States. Each photo feature is coupled with a brief explanation.
For further detailed information, links to other related sites are provided.
Chase County Courthouse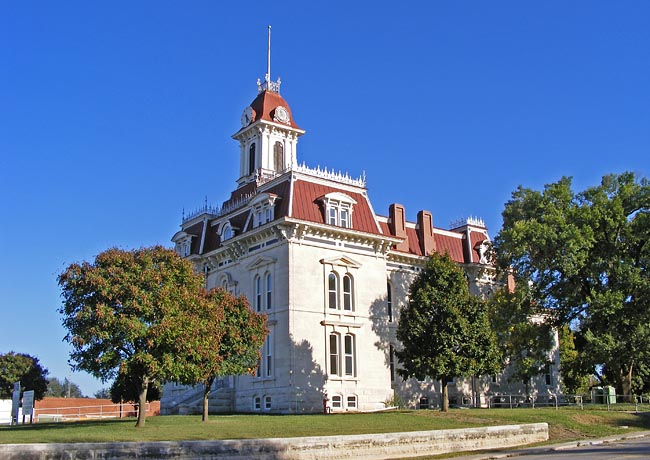 Standing at the head of Broadway, this Chase County landmark has been the centerpiece of Cottonwood Falls for over 135 years. The Chase County Courthouse, built of native limestone, has the distinction of being the oldest operating courthouse in Kansas.
The Chase County Courthouse was designed by one of the leading architects in Kansas, John G. Haskell. Haskell was chosen because of his bold designs already displayed in Lawrence and Topeka. The courthouse, built in a French Renaissance Chateau style, more than fulfilled the town's desires for a striking design. Still garnering much deserved attention today, one can imagine the awe that this three-story building commanded in 1873 when the state was in its infancy.
Cottonwood Falls, one of the stops along the Flint Hills Scenic Byway, puts on three fun-filled festivals throughout the year. The Prairie Fire Festival, set in April, pays tribute to the ranchers of the Flint Hills and their range management practice of burning the prairie. The blue grass jam session and Medicine Park Native American Singers and dancers are the highlights of the six day festival. June and September see the Flint Hills Folklife and BroomWeed festivals which demonstrate 1800s skills of basket making, soap making, blacksmithing, carving, and quilting; plus another good excuse to gather at the courthouse for some foot stompin', heel kickin' fun.
Copyright © 2009 Benjamin Prepelka
All Rights Reserved