Scenic USA - Rhode Island
Scenic USA offers a collection of select photographs from a wide variety of attractions, points of interest, historic sites, state parks and
national parks found throughout the United States. Each photo feature is coupled with a brief explanation.
For further detailed information, links to other related sites are provided.
Castle Hill Lighthouse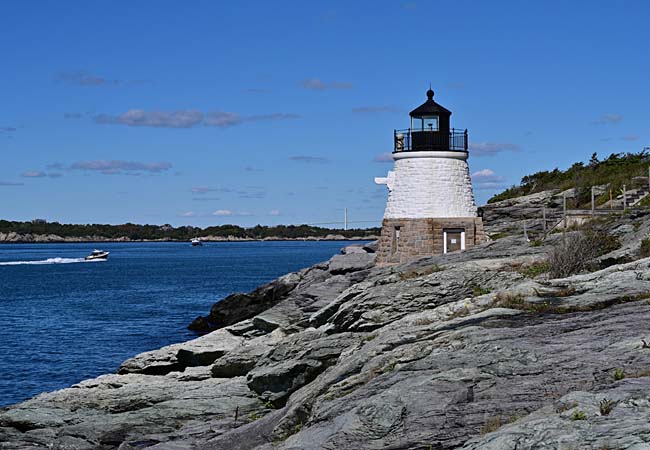 Here in Newport and along its famed Ocean Drive, visitors will find a coast thatís lined with splendid mansions and impressive gardens. One of these grand homes on the western tip of Aquidneck Island was once home to Harvard marine biologist Alexander Agassiz. Today, this charming landmark is part of the Castle Hill Inn Resort.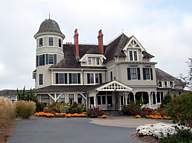 One of the most splendid resorts in Newport, Castle Hill Inn continually receives top awards for its food, wines and accommodations. Castle Hill Inn offers up a taste of fine 19th century seacoast living. Here on the bay, guests can hear the steady moan of the nearby lighthouse fog signal, the cries of seagulls and the steady crash of ocean waves. It doesnít get much better than this.
Perched on a huge granite ledge adjacent the inn, the 120 year old Castle Hill Lighthouse remains an important navigation aid along the Eastern Passage of Narragansett Bay. Built on a massive rocky slab, the 34 foot granite tower announces the extreme western prominent for those entering from Rhode Island Sound. This solid little tower has needed little more than routing maintenance over the years, but its rust stained coat of white paint bears witness to the Atlantic's corrosive salt air.
Because of steep cliffs between the inn and lighthouse, it's best to access lighthouse trails across the street from the U.S. Coast Guard facility. Anglers and lighthouse fans have kept a web of trails clear all the way to the cliffs above the sea.
Copyright ©2010 Benjamin Prepelka
All Rights Reserved