Scenic USA - Utah
Scenic USA offers a collection of select photographs from a wide variety of attractions, points of interest, historic sites, state and
national parks found throughout the United States. Each photo feature is coupled with a brief explanation.
For further detailed information, links to other related sites are provided.
Church Rock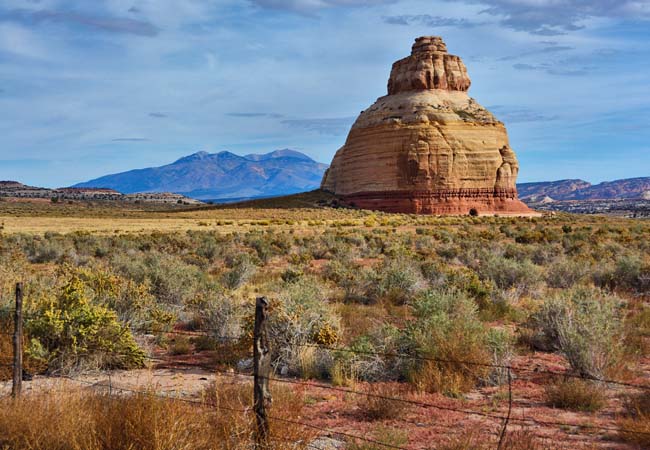 Without a doubt Utah has more grand landscapes and scenic wonders than most states, and its southeastern corner is no exception. With majestic Colorado and Green river canyonlands, this lone roadside oddity near Monticello, called Church Rock, seldom attracts no more than a casual glance as visitors head toward Newspaper Rock and the Needles District.
One of the interesting pages of 1930's history tell about Church Rock, and how the gumdrop shaped rock earned its name. Seems Marie Ogden's Home of the Truth, an Utopian community, was responsible. With a small band of followers, Ogden's group moved onto a tract of barren land along Utah's Route 211 in 1933. Members, abiding by a strict code of conduct, were expected to work for the common goals of the settlement. Women tended to the domestic chores and men worked the arid farm acreage. Not far from their farm, the group set upon a grand plan to hollow out the entire center of a sandstone remnant (by hand) to build a church. Today, the only evidence of this ambitious plan is the beginnings of a 16 by 24 foot opening chiseled into the rock. A few miles from Church Rock are the remains of Ogden's ghost town. A few buildings and a small cemetery are all that remain of the Home of the Truth community, found on a ridge called Photograph Gap.
Copyright ©2006-2009 Benjamin Prepelka
All Rights Reserved