Scenic USA - Arizona
Scenic USA offers a collection of select photographs from a wide variety of attractions, points of interest, historic sites, state and
national parks found throughout the United States. Each photo feature is coupled with a brief explanation.
For further detailed information, links to other related sites are provided.
Kitt Peak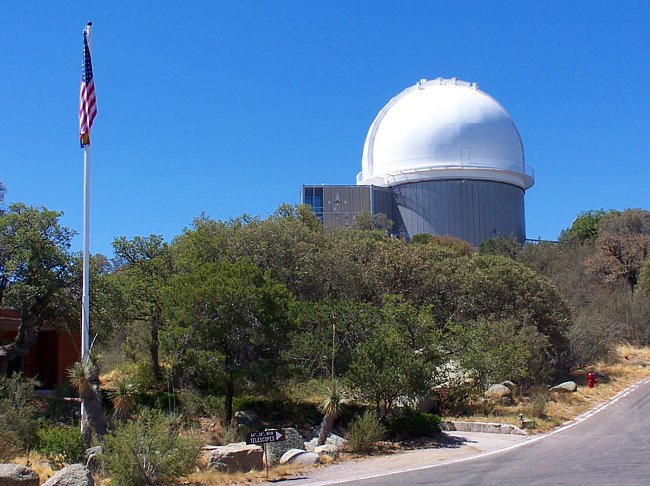 A 2.8 million acre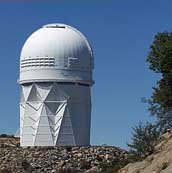 section of the Sonoran Desert was set aside for the Tohono O'odham Nation. The reservation, second largest in America, includes three casinos, Mission Xavier del Bac, and the Kitt Peak Observatory. A small 200 acre portion of the reservation, in the Quinlan Mountains, is set-up by permanent lease to the National Optical Astronomy Observatory (NOAO) at Kitt Peak. Astronomers have access to the world's largest assortment of astronomical observation equipment. A three year search studied over 150 possible sites in the United States, and selected the Sonoran Desert area because of the quality of its night skies. Built in 1958, the observatory enjoyed a 50th anniversary celebration.
For astronomy buffs, Kitt Peak National Observatory is open to the public and
features 23 telescopes. The McMath-Pierce Solar Telescope is the largest in the world, and is unobstructed with a secondary mirror. The 4 meter Mayall Telescope, named for the former director, is one of the most prominent features near the 6,875 foot summit, and can be seen in Tucson some 45 miles away. The dome and 158 inch scope weigh in over 500 tons, stand 18 stories and are used to study faint visible light that is found at the limits of the universe, presenting views that look back through time.
Copyright ©2007 Benjamin Prepelka
All Rights Reserved