Scenic USA - Indiana
Scenic USA offers a collection of select photographs from a wide variety of attractions, points of interest, historic sites, state and
national parks found throughout the United States. Each photo feature is coupled with a brief explanation.
For further detailed information, links to other related sites are provided.
Cataract Falls SRA
The town of Cataract appears as a small dot on the Hoosier State road map, found about 30 miles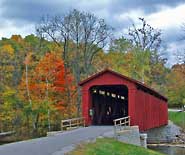 southwest of the expansive border of Indianapolis. A prominent feature, just north of Cataract is a teardrop shaped body of water, Cagles Mill Lake. Mill Creek (Eel River) flows toward to the lake through Cataract Falls State Recreation Area. The 37 acre plot holds Indiana's largest waterfalls (upper and lower falls), the Little Sister Falls, and a recently refurbished covered bridge, circa 1882.
The Cataract Falls SRA is a popular picnic area, with the falls as a wonderful, but thunderous backdrop. The upper and lower falls are connected by a hiking trail. The Owen County recreation area is nearby Cloverdale and Interstate 70.
Copyright ©2007 Benjamin Prepelka
All Rights Reserved