Scenic USA - Montana
Scenic USA offers a collection of select photographs from a wide variety of attractions, points of interest, historic sites, state and
national parks found throughout the United States. Each photo feature is coupled with a brief explanation.
For further detailed information, links to other related sites are provided.
Montana Snowbowl - Peak 6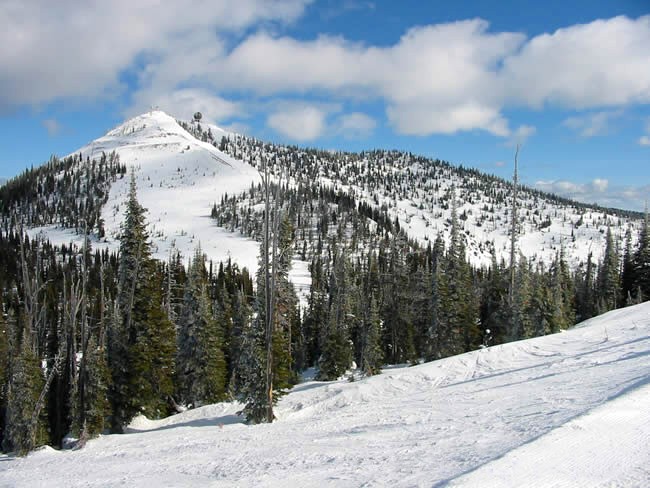 Montana's Glacier Country is set in a dramatic mix of magnificent mountain peaks, sweeping valleys, picturesque lakes and cool mountain streams. Here in Glacier Country and south of Flathead Lake, Missoula is found at the head of the Bitterroot Valley and positioned between the Rocky Mountains and the Bitterroot Range.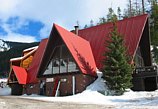 Winter sports enthusiasts find the Montana Snowbowl Ski Area just eight miles north of Missoula. The ski area, touted as easy access, is spread over 950 acres with over half designated as glade skiing. Averaging over 300 inches of white a year, Snowbowl will put you in the powder. The terrain, featuring Montana's greatest 2,600 foot vertical drop, offers a challenge to those seeking the extreme. Beginner and intermediate sections are also set aside for the average skier.
Peak 6, pictured here, entices some skiers to enjoy the fresh powder in an out-of-bounds area. Gelandesprung Lodge, packed with European style amenities, looks up toward the rather intimidating bowl and Big Sky Mountain. With an elevation topped out at 7,500 feet, skiing Snowlbowl will provide plenty of exciting skiing.
Copyright ©2006-2009 Benjamin Prepelka
All Rights Reserved