Scenic USA - Washington
Each day Scenic USA presents a new and interesting photo feature from somewhere in the United States. Chosen from a wide variety
of historic sites, city scenes, backcountry byways, points of interest and America's best parklands, this site offers the viewer hundreds
of unique vacation destinations and photographic subjects. Each feature is coupled with a brief explanation. For further detailed
information, links to other sites are provided, but are never to be considered an endorsement.
Stevens Pass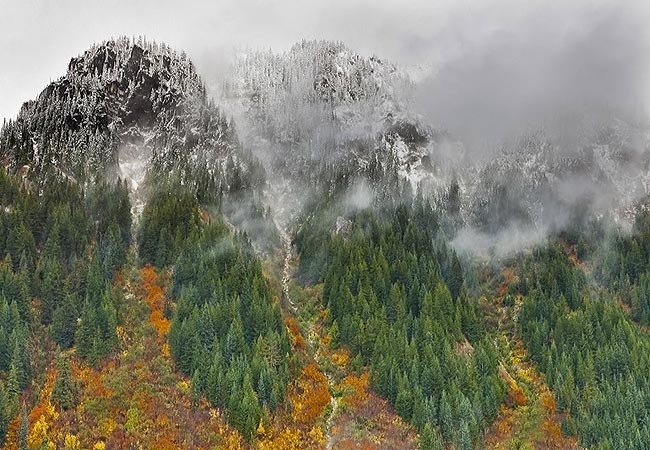 Through the years before 1972 getting across the Cascade Range above Interstate 90 could only be achieved by way of U.S. Route 2. When Route 20 was completed, a remarkable byway loop was formed that encircles two enormous national forestlands. The 400 mile North Cascades Loop passes over the majestic Cascade Range twice, leads through a land of glacial lakes, picturesque farmlands, swift flowing streams and plenty of cascades and waterfalls. The Route 2 highway, a mecca for sightseers, photographers and mountain backpackers, follows the historic Great Northern Railway's Iron Goat Trail. Here in the heart of the Northern Cascades, the mountain throughway saddles up to the thundering Skykomish River on the west and the Wenatchee River to the east, both meeting at Stevens Pass.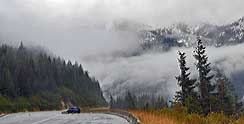 Stevens Pass is named after John Frank Stevens, who searched for a suitable route over the Cascades for the Northern Pacific Railroad. Learning of the pass from Native Americans, he followed the promising route in 1890. Surprisingly, Stevensí survey found no hints that this trail was ever used. Slowed by a dense forest and impenetrable underbrush, Stevens eventually concluded that this was the route for the Great Northern Railway.
As one would guess from this mid-autumn photograph, crossing the 4060 foot pass during winter can be challenging at times. Traffic advisories are posted periodically and a web cam at milepost 65.7 offers a great idea of the present weather.
Copyright ©2011 Benjamin Prepelka
All Rights Reserved