Scenic USA - West Virginia
Scenic USA offers a collection of select photographs from a wide variety of attractions, points of interest, historic sites, state parks and
national parks found throughout the United States. Each photo feature is coupled with a brief explanation.
For further detailed information, links to other related sites are provided.
Lane Farm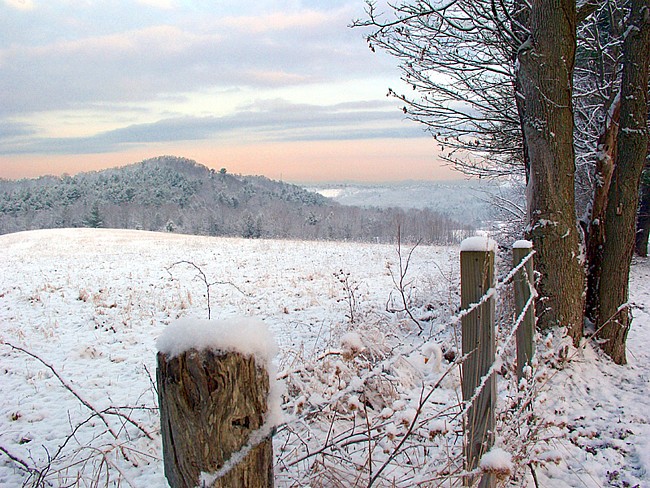 West Virginia's Mercer County, located near the southern border, is sectioned off by two major transportation routes. Here, U.S. Route 460 and I-77 connect the major towns of Athens, Bluefield and Princeton. This section of the state is heavily influenced by the rippling terrain of the Allegheny Mountains. Mercer County travelers find a handful of close-knit communities connected by these main highways.
Outside the city limits, the transition from town to country occurs quickly, leading through farmland and woodlands. Fence lines not only delineate property lines and keep livestock in check, but also create a wonderful foreground element in this picturesque farm scene. The year's first snowfall blankets Lane Farm, brightening the drab fields of winter.
Farm fencing goes beyond Robert Frost's suggestion of good fences make good neighbors. Manufactured barbed wire dramatically changed the agriculture industry, ranking with the invention of rifles, telegraph, windmills and locomotives. Although Michael Kelly was the first to be granted a patent in 1868 for his barbed wire, Joseph Glidden was crowned king of barbed wire. Glidden's design locked barbs in place and utilized new machinery in mass production. Today's property owners cannot afford to overlook the value of good fencing.
Copyright ©2010 Benjamin Prepelka
All Rights Reserved