Southern Indiana's Lawrence County is known as Limestone Country. Indiana limestone was a preferred building material, showing up in famous buildings such as the Pentagon, Empire State Building and Lincoln Memorial. Common in classic architecture, limestone bedrock is also associated with some of the largest caves in the world. More than 130 commercial caves are open to the public in the United States, with hundreds more found throughout the states in national and state parks.
One of Indiana's finest state parks is nestled into these limestone hills, where Hamer Cave is the chief source of the park's water features. Spring Mill State Park's biggest draw is its Pioneer Village. This early 19th century village displays the persistence and ingenuity of hearty Indiana settlers. Centered on Mill Creek that flows from Hamer Cave, the huge grist mill anchors the village. The caves in Spring Mill State Park maintain a constant temperature of 54 degrees throughout the year, and supplied power to the grist mill year around.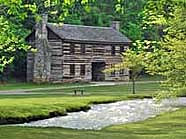 Samuel Jackson, the mill's original owner, saw the advantage of this natural valley, diverting water to a 15 square foot mill. By 1917, the Bullitt brothers had taken over, damming the creek and building the present day mill and water flume. Spring Mill's history suggests that a woolen mill, saw mill, and distillery also made use of this clear running spring water. During the 1800s, the village exported whiskey, pork and corn as far away as New Orleans. An old school house, apothecary shop, mercantile, leather shop, tavern and blacksmith shop are spread out among the resident's log cabins.
Because the village rapidly declined after the Civil War, the property exchanged hands numerous times, but owners continued to run the distillery and grist mill. The last owner, George Donaldson, returned to Scotland in 1897, and eventually the property reverted to the state. Restoration of the village began in 1928 and the park officially opened in 1930.